Freight Railroad Worker Stories: Eugene Martinez of the National Conference of Firemen & Oilers/SEIU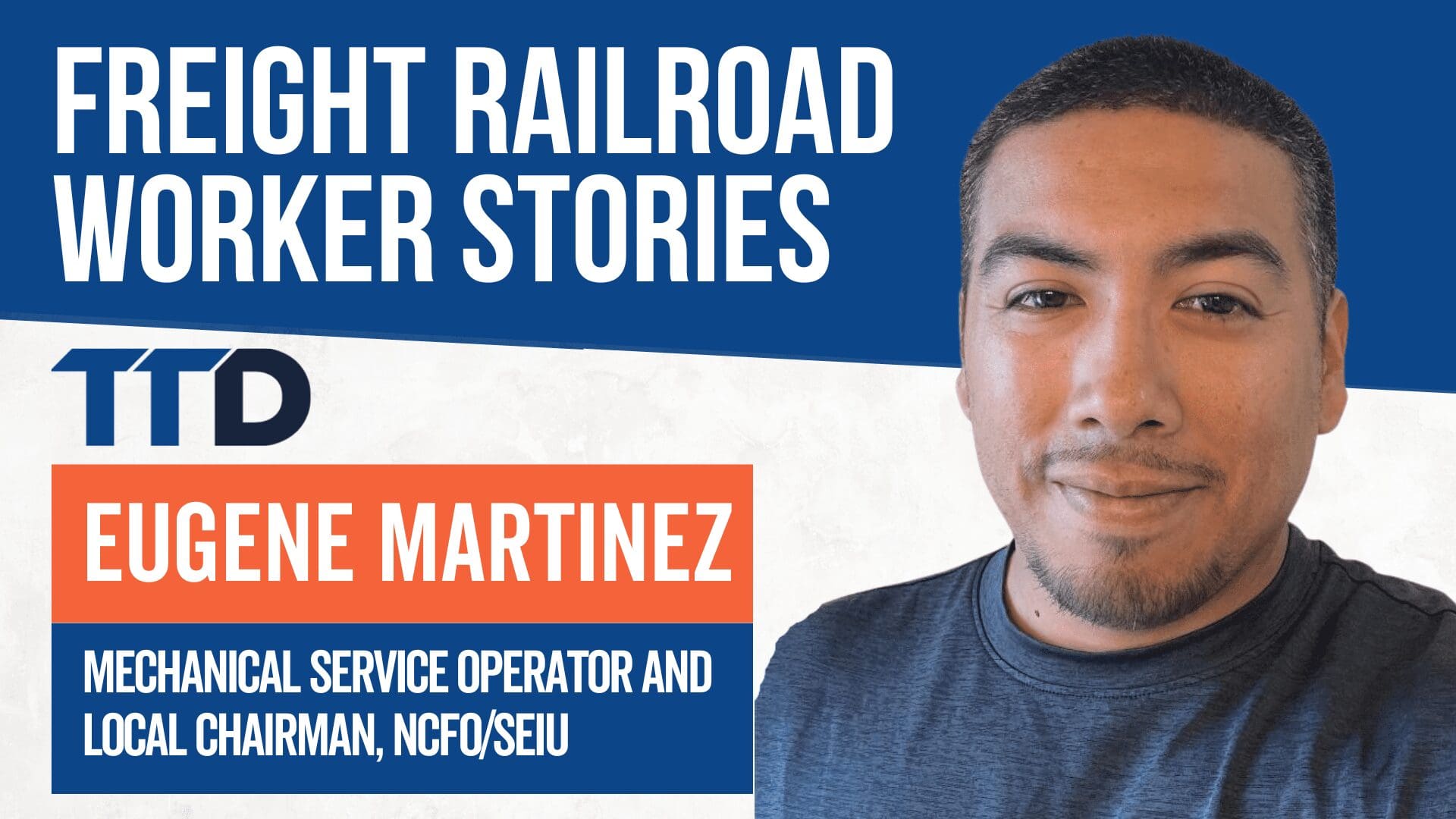 At a recent Virtual U.S. Freight Railroad Worker Town Hall, Transportation Trades Department President Greg Regan introduced a group of workers who explained the challenges they've faced in their three-year fight for a new contract with U.S. freight railroad companies:
Since 2015, seven major railroad companies made $146 billion in net profits off the backs of these workers. That's the most money they've ever made in the history of railroading—even more than the Gilded Era railroad robber barons. During this same time period, the companies eliminated 45,000 jobs from the industry. Instead of recognizing the value of these workers, the companies have enacted massive job cuts and offered the remaining workers a net pay cut and worse health care benefits than they have now. This is unacceptable.
In the coming days, the AFL-CIO will share the stories of those workers. Check back here every day for more.
Today's story comes from Eugene Martinez of the National Conference of Firemen & Oilers (NCFO), an affiliate of SEIU. He works as a mechanical service operator at Union Pacific in Houston. As a mechanical operator, Martinez is a locomotive engine mover, forklift operator and locomotive service truck driver. He also supplies and services locomotives.
Martinez said: "I have been with the railroad for more than 14 years now. I work anywhere from 70 to 80 hours a week. Our main issues are manpower, pay and time off. When I was hired in 2008, we had close to 100 mechanical service operators. We are now down to 42. We're taking on more work for the same pay.
"My job is among the lowest-paid railroad crafts, but we do the most dangerous job. It's almost impossible to take time off without violating the attendance policy. Only two NCFO members are allowed off a day. If the day is full you can forget about it, and the day is always full because we are short-staffed.
"The job puts a lot of strain on our families because we miss a lot of events. You know, we don't really get those special meaningful times with our kids or our families. We miss birthdays, graduations, sporting events and more. My daughters play high school sports, and I miss a lot of their games because I have to work. And I speak for a lot of other workers who have missed time with their family. We've missed countless moments. It shouldn't be like this."
Kenneth Quinnell
Fri, 08/26/2022 – 10:02