Freight Railroad Worker Stories: Rodney Neatrour of IAM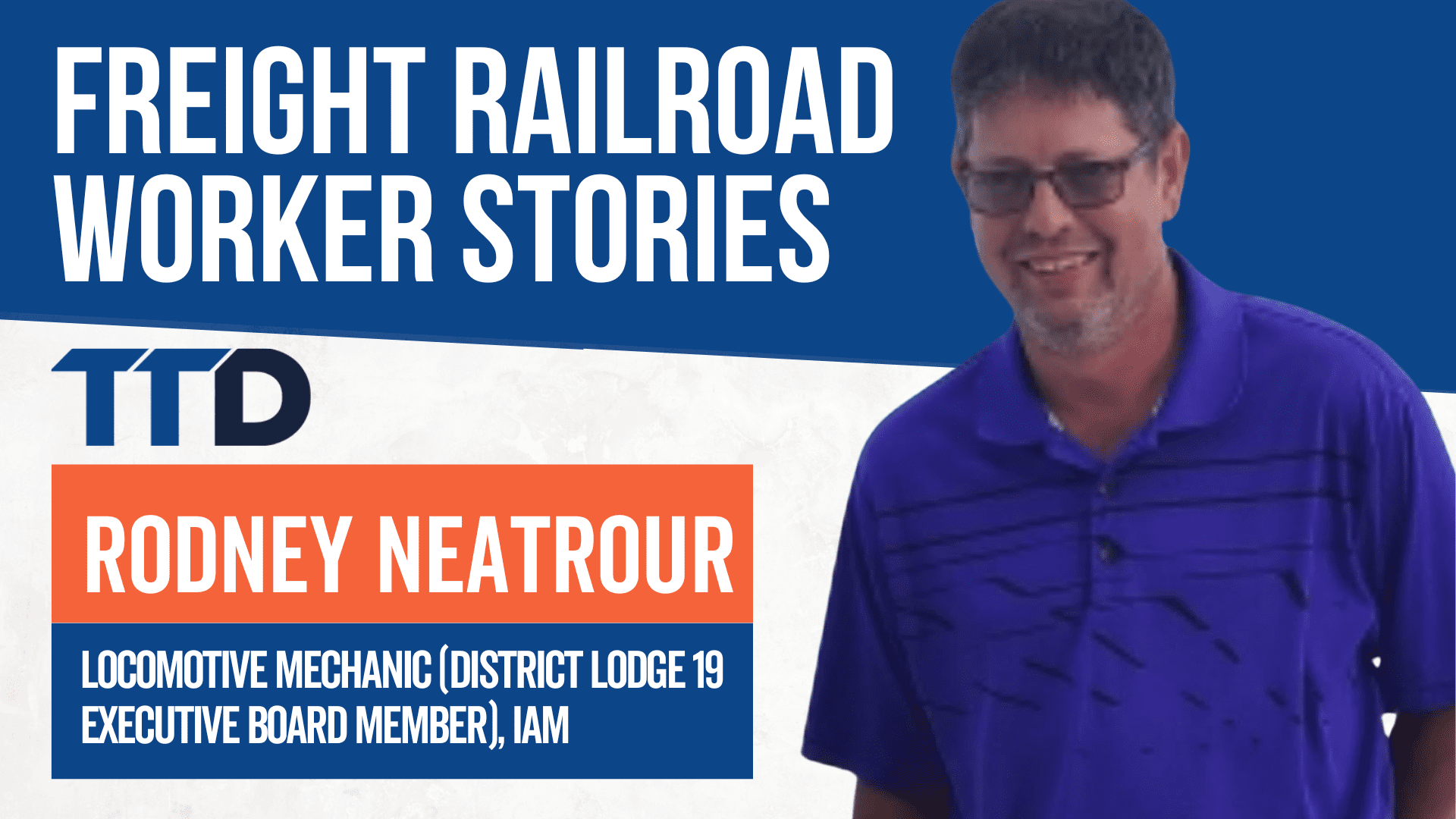 At a recent virtual U.S. Freight Railroad Worker Town Hall, Transportation Trades Department, AFL-CIO, (TTD) President Greg Regan introduced a group of workers who explained the challenges they've faced in their three-year fight for a new contract with U.S. freight railroad companies:
Since 2015, seven major railroad companies made $146 billion in net profits off the backs of these workers. That's the most money they've ever made in the history of railroading—even more than the Gilded Era railroad robber barons. During this same time period, the companies eliminated 45,000 jobs from the industry. Instead of recognizing the value of these workers, the companies have enacted massive job cuts and offered the remaining workers a net pay cut and worse health care benefits than they have now. This is unacceptable.
In the coming days, the AFL-CIO will share the stories of those workers. Check back here every day for more.
Today's story comes from Rodney Neatrour, a locomotive mechanic who works for Norfolk Southern in Altoona, Pennsylvania. He is a member of the Machinists (IAM) and a District Lodge 19 executive board member.
Neatrour said: "I'm coming up on 17 years as a locomotive mechanic on the railroad. I've been a proud Machinist the entire time.
"The locomotive shop I work at has experienced severe furloughs. As late as 2015, the shop employed 1,100 workers. That number has since dropped to less than 400 workers. I was furloughed during the 2009 economic downturn. When I got called back from that furlough, there was never a thought that I wouldn't retire from this job. But the furloughs are completely different now. They don't make any sense.
"I purchased a home and I have bills—a mortgage, car payment, things like that. About a year and a half ago, given the nature of the furloughs and how deep the railroads were cutting, I actually took on a second job at that time so I would have an avenue of escape if the furloughs hit me.
"After 16 years, I should not have to worry if my career is safe when the railroads have made $146 billion in profit since 2015.
"When I was hired, the railroad was one of the best jobs you could have. But now I can tell you with 100% certainty that there is not one person at my location that is satisfied with their pay, benefits, or their security in their job. Everyone has some trepidation regarding those three things.
"What would you do if you got laid off? There are people that have more service time than me—20 years or more. It's a scary time for all railroaders. If the railroads value us as much as they claim, they'll treat us fairly with this contract."
Kenneth Quinnell
Wed, 08/17/2022 – 12:30