Organizing Institute Partners with NBWCP for First-Ever Black Lead Organizer Training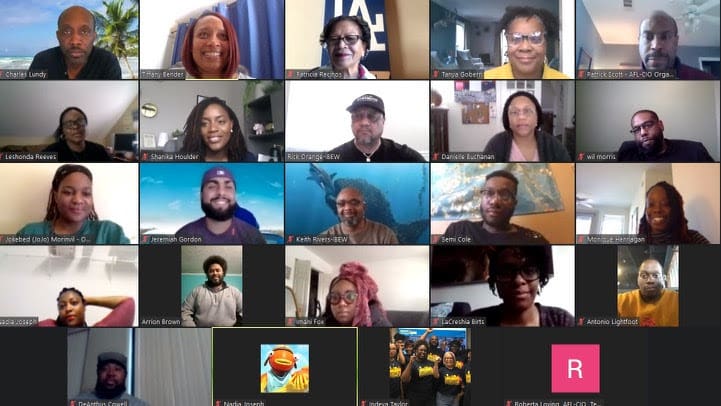 We are just coming off of the first-ever AFL-CIO Organizing Institute (OI) Advanced Organizer Workshop for Black lead organizers and campaign strategists. In commemoration of Black History Month and the history and impact of Black organizers in the civil rights and labor movement, the OI partnered with the National Black Worker Center Project (NBWCP) on a training specifically designed on developing Black lead organizers.
Twenty-five Black lead organizers from the Electrical Workers (IBEW), American Postal Workers Union (APWU), NBWCP, United Steelworkers (USW), UNITE HERE, and Office and Professional Employees (OPEIU) from across the country came together to share experiences, sharpen their campaign management skills and reinforce best practices to win campaigns for recognition in workplaces and communities.
Thank you to:
NBWCP Executive Director Tanya Wallace-Gobern and NBWCP Deputy Executive Director Shanika Houlder-White for partnering with the AFL-CIO OI to make this happen, and for taking time from their own work to serve as facilitators for the empowering workshop.

AFSCME Associate Organizing Director Ashley Jenkins and AFL-CIO Internal Organizing Coordinator Handel Lundy for taking time from their campaigns to serve as facilitators.

OI Senior Trainers Tiffany Bender (lead) and Patricia Recinos (co-lead), OI Senior Administrator Indeya Taylor and AFL-CIO Meetings and Travel Senior Planner Roberta Loving for all the work, planning and execution in making this historic lead organizer workshop a success.
Click the video to check out how Arrion Brown (APWU), Monique Hennagan (OPEIU), Semi Cole (NBWCP) and Keith Rivers (IBEW) share what they learned and how they plan to take back to, and win, the campaigns they are leading.  
Although this was the first workshop for Black lead organizers and strategists, we will continue partnering with unions and allied organizations to sharpen the skills of women and organizers of color, from entry-level to lead organizers.
We thank you for your continued support and trust in the AFL-CIO Organizing Institute. The OI will post the 2021 OI Digital Three-Day Training Schedule later this week. Check out aflcio.org/oi for updates.
We look forward to training organizing teams to empower working people to win respect and dignity on our jobs.
Kenneth Quinnell
Tue, 02/23/2021 – 10:39