Service + Solidarity Spotlight: CWU Members Have Knocked on 430,000 Doors (and Counting)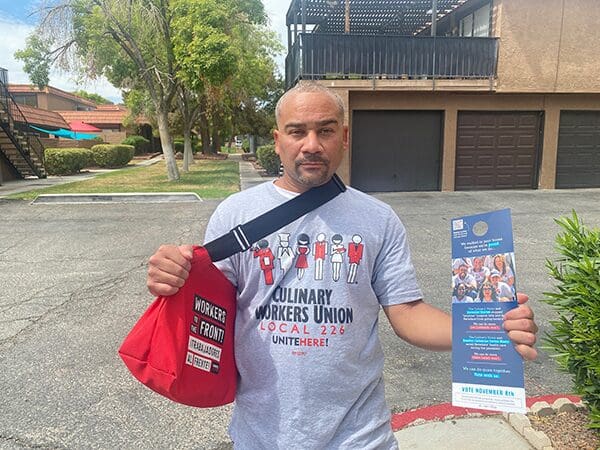 Working people across the United States have stepped up to help out our friends, neighbors and communities during these trying times. In our regular Service + Solidarity Spotlight series, we'll showcase one of these stories every day. Here's today's story.
Members of the Culinary Workers Union (CWU) in Nevada are nearly halfway toward their goal of knocking on 1 million doors for the 2022 midterm elections, passing 450,000 doors knocked so far. With 87 years of knowledge and experience with effective and precise voter contact, the CWU is a major force in Nevada politics, and its members are talking with voters about electing leaders who will stand with working people. More than 350 CWU members are on a political leave-of-absence in order to participate in the voter mobilization.
So far, their efforts have led to the union talking with more than half of the state's Black and Latino voters and more than one-third of the state's Asian and Pacific Islander voters. The canvassers reflect the CWU's diverse membership, and the union and its volunteers are committed to organizing and winning economic and racial justice. The efforts are rooted in the principle that working people talking with each other is vital to building collective power at the ballot box.
Kenneth Quinnell
Fri, 10/07/2022 – 09:39