Service + Solidarity Spotlight: Electrical Workers Run Innovative Drive-Through Picnic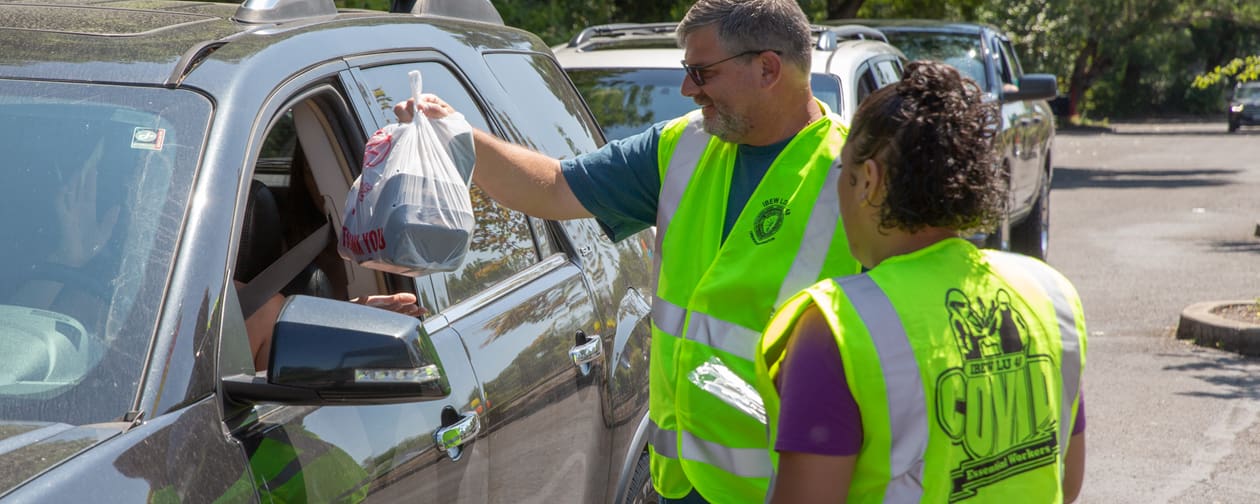 Working people across the United States have stepped up to help out our friends, neighbors and communities during these trying times. In our regular Service + Solidarity Spotlight series, we'll showcase one of these stories every day. Here's today's story.
Last year, Electrical Workers (IBEW) Local 48 sadly canceled their traditional summer picnic. Not wanting to miss the beloved event again this year, Local 48 Communications Director Tracey Powers suggested a drive-through picnic. The idea caught on and the Local set out to make it happen.
"Everyone was so happy," Powers said. "It was a very fun environment. We haven't gotten to see our members in almost two years."
Nearly 1,700 members picked up meals for their families. Food included barbecue and side dishes from a family-owned business, McKillips. Families in attendance also participated in a raffle that included prizes like tablets, televisions, drills and others. Local high school baseball and volleyball players were recruited to package the meals in exchange for donations to their teams.
"The organizers did a great job. They had the flow going perfectly," said Bryan Sutherland, a retired journeyman. "I think of it like a jobsite—our people are organized, they are smart, and they know how to get things done." He said that the picnic "was one more thing that makes me proud to part of the IBEW."
Kenneth Quinnell
Tue, 10/12/2021 – 09:30