Service + Solidarity Spotlight: Georgia Votes!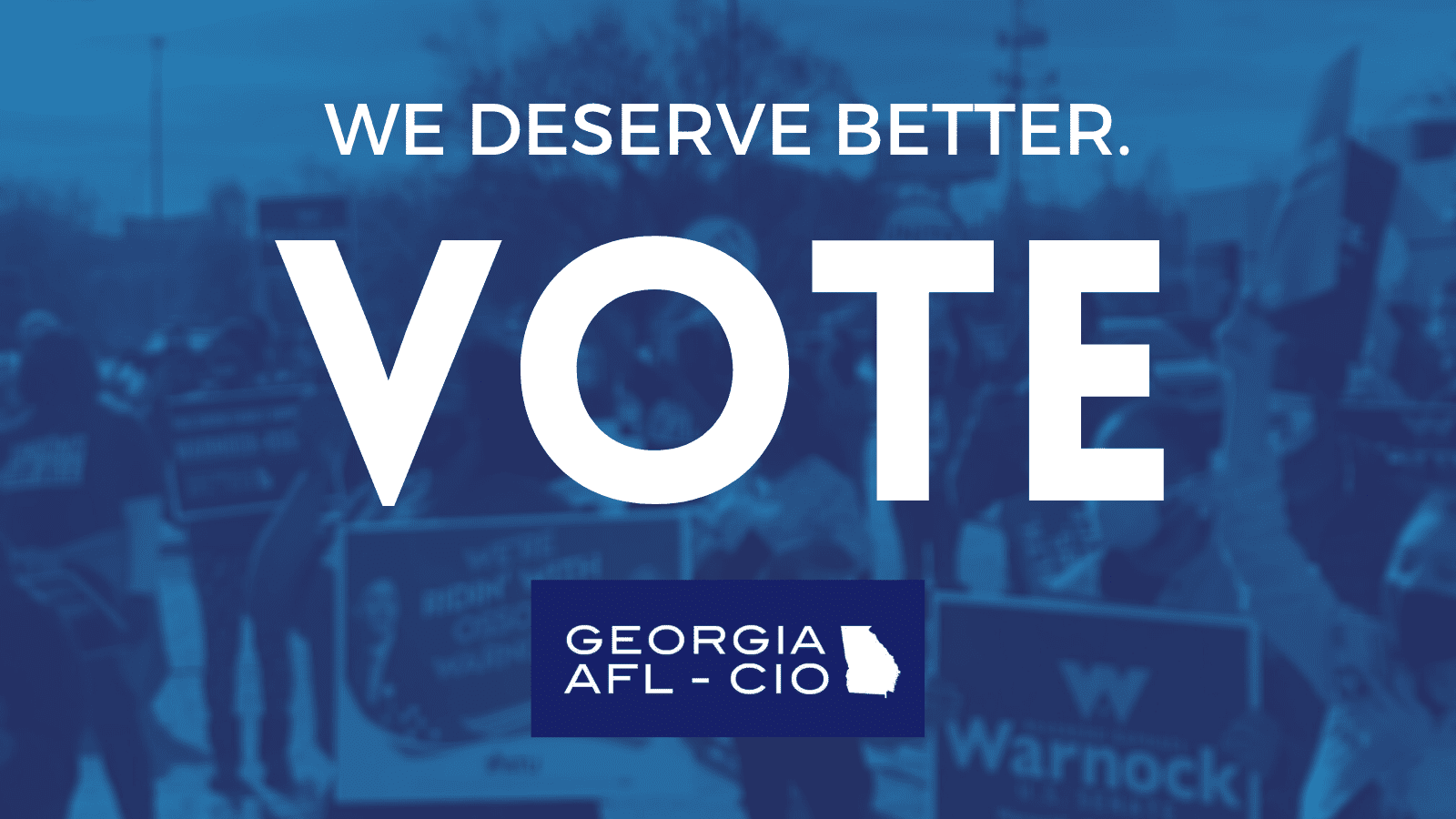 Working people across the United States have stepped up to help out our friends, neighbors and communities during these trying times. In our regular Service + Solidarity Spotlight series, we'll showcase one of these stories every day. Here's today's story.
"It's finally here. Today is Election Day for Georgia's Senate runoff campaign—where millions of us will decide the fate of the U.S. Senate and the future of our country," said Georgia State AFL-CIO President Charlie Flemming (IAM).
"Election Day is always an exciting time, and for me it's a testament to the incredible hard work every single union member, whether here on the ground in Georgia or across the nation, has put into these two runoff Senate races. In such a short period of time, in such unprecedented conditions, we have phone banked hundreds of thousands of voters. And thanks to major efforts from our affiliates and partner organizations, we have safely knocked on millions—yes, millions—of doors. We have hosted dozens of caravans, rallies and literature drop events. And we have welcomed both the Rev. Raphael Warnock and Jon Ossoff into our event spaces on multiple occasions. Early voting ended with a record 3 million votes. And as the rest of the votes come in today (polls close at 7 p.m.), I could not be prouder to serve Georgia's working people."
Across the country, thousands of union members participated in the AFL-CIO's Georgia Postcard Campaign. Launched Dec. 1, the program targeted both union and nonunion voters who needed an extra push to make sure they vote early, by mail or on Election Day, Jan. 5.
We'd like to extend a special thank you to everyone who went above and beyond in this effort. In a matter of three weeks, over the peak holidays, the AFL-CIO state and local central bodies, affiliates, constituency groups, allies and the Committee on Working Women ordered postcards in droves. The numbers speak for themselves: In total, 400,209 postcards were ordered, shipped, distributed, handwritten and then sent back out to voters. The Labor Council for Latin American Advancement sent more than 5,600 postcards, the Coalition of Black Trade Unionists sent 4,500, and all of the labor movement's allies and constituency groups stepped up in a big way.
For months, AFL-CIO members from coast to coast hosted virtual phone banks to reach hundreds of thousands of union and nonunion voters in Georgia. Altogether, thanks to efforts from our affiliated unions, state federations and local labor bodies, the AFL-CIO's virtual phone banks made over 618,456 calls. Virtual events, such as the Texas AFL-CIO's "Solidary Phone Bank for Georgia en Español," Pride At Work's collaborative phone bank with the Asian Pacific American Labor Alliance and countless other events, made a real difference in this election.
Kenneth Quinnell
Tue, 01/05/2021 – 09:43