Service + Solidarity Spotlight: IBB Begins New Work at Philly Shipyard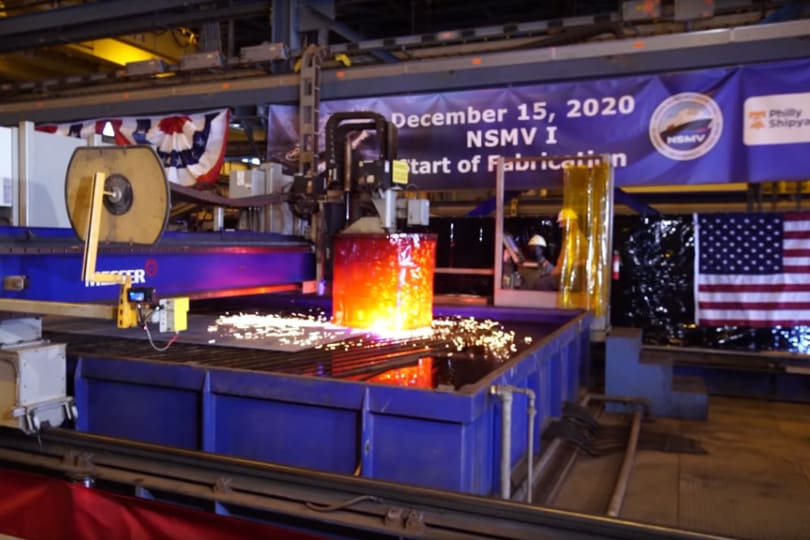 Working people across the United States have stepped up to help out our friends, neighbors and communities during these trying times. In our regular Service + Solidarity Spotlight series, we'll showcase one of these stories every day. Here's today's story.
Members of the Boilermakers (IBB) at Philly Shipyard began a new era in maritime education with the cutting of steel for the new National Security Multi-Mission Vessel (NSMV). This is the initial major construction milestone for the first purpose-built, state-of-the-art training vessel for America's state maritime academies. In addition to providing world-class training for America's future mariners, the NSMV will be available to support humanitarian assistance and disaster relief missions. "The International Brotherhood of Boilermakers was proud to work alongside President James Hart and the AFL-CIO Metal Trades Department, as well as others, to champion and ultimately secure this work at Philly Shipyard. Seeing our efforts come to fruition now is especially important, not only for the jobs it brings to the Boilermakers and other union crafts at Philly Shipyard, but also for the bolster it provides to America's national security," said IBB International President Newton Jones.
In April, the Department of Transportation awarded a contract for up to five national security multi-mission vessels from TOTE Services. President James Hart (UA) of the Metal Trades Department, AFL-CIO, was instrumental in winning the contract. TOTE placed an initial order with Philly Shipyard for the first two vessels, with delivery to take place in the spring and winter of 2023. Members of IBB Local 19 in Philadelphia work at Philly Shipyard. Pictured above, members operate a plasma cutting machine that makes the first cut in a steel plate. The pieces will be transported to an assembly line where they will eventually become part of the first ship's keel.
Kenneth Quinnell
Tue, 02/02/2021 – 09:39