Service + Solidarity Spotlight: Illinois Labor Movement Wins Workers' Rights Amendment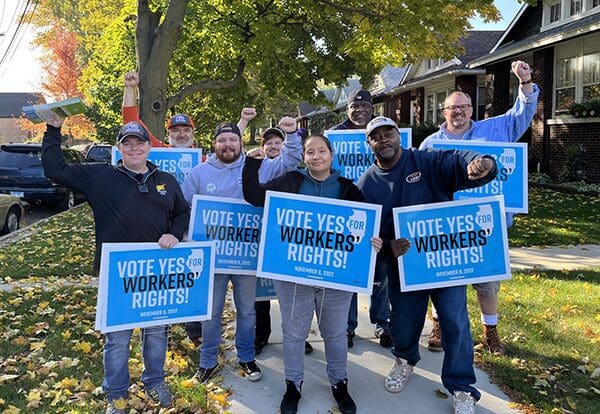 Working people across the United States have stepped up to help out our friends, neighbors and communities during these trying times. In our regular Service + Solidarity Spotlight series, we'll showcase one of these stories every day. Here's today's story.
One of the most important ballot proposals in this election was in Illinois, where right-wing politicians have been trying to chip away at our right to organize. Voters, driven by a positive and effective campaign from Illinois' union members, have responded in huge numbers to pass the Workers' Rights Amendment. This amendment to the Illinois Constitution will protect the right to organize so that more workers in the state have the opportunity to join together in a union. Illinois is now the fourth state to enshrine the right to collective bargaining in its constitution.
"History was made with the passage of the Workers' Rights Amendment," celebrated Illinois AFL-CIO President Tim Drea (UFCW; not pictured). "This would not have been possible without the strong solidarity of a statewide labor movement that came together in unison to protect the rights of our hardworking families."
Kenneth Quinnell
Thu, 11/10/2022 – 10:51