Service + Solidarity Spotlight: Inauguration 2021: Brought To You By Unions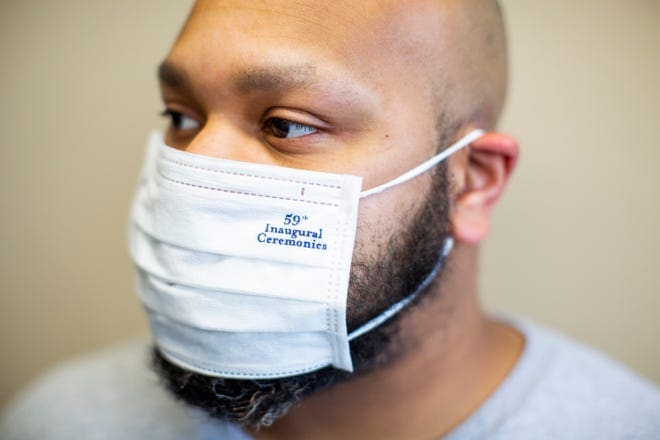 Working people across the United States have stepped up to help out our friends, neighbors and communities during these trying times. In our regular Service + Solidarity Spotlight series, we'll showcase one of these stories every day. Here's today's story.
On Wednesday, we witnessed a nearly flawless inauguration ceremony that served to uplift Americans and help unify us on a path toward tackling the significant challenges we face as a country. Much of the inauguration was powered by union members. Leading up to the November election and continuing until the January runoff in Georgia, the labor movement contributed countless hours, including hundreds of thousands of phone calls made, postcards sent and doors knocked. Working people were key in determining which party controlled the White House and Congress.
As for Inauguration Day, the UAW produced the official inauguration masks (pictured, modeled by UAW member Phillip King). IATSE's production of the event included the beautiful "Field of Flags" art display that lined the National Mall. The Pledge of Allegiance was spoken (and delivered in American Sign Language) by Andrea Hall, a longtime firefighter and IAFF member. Machinists (IAM) built and maintain Air Force One, which safely delivered the outgoing president to his new home and will carry President Biden as he executes the duties of the presidency. Members of SAG-AFTRA, like Tom Hanks, and other entertainment-related unions hosted or performed as part of the daylong event. Our thanks go out to these and all the other union members who helped elect Biden and Harris to the White House and who made the inauguration an inspiring event that opens a new and hopeful chapter in America's history.
Kenneth Quinnell
Fri, 01/22/2021 – 09:47