Service + Solidarity Spotlight: Labor Movement in Rochester, New York, Gets Out the Union Vote as Early Voting Begins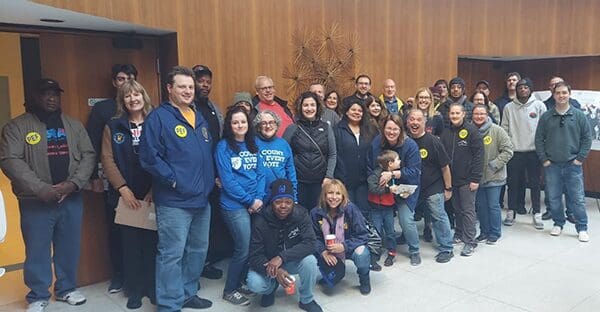 Working people across the United States have stepped up to help out our friends, neighbors and communities during these trying times. In our regular Service + Solidarity Spotlight series, we'll showcase one of these stories every day. Here's today's story.
With competitive elections up and down the ballot, union members from the Rochester, New York, area held a labor-to-labor canvassing event on Saturday—the first day of early voting in the Empire State.
"Right-wing candidates are coming after Social Security and Medicare. They're putting it in writing. That's our money they want to give away to their big corporate donors," Rochester-Genesee Valley Area Labor Federation President Dan Maloney (UAW; pictured above in back row, fourth from right) told union volunteers. "Be sure to spread the message at the doors."
Joining the event were volunteers from the Communications Workers of America (CWA), Public Employees Federation (PEF), Civil Service Employees Association/AFSCME (CSEA/AFSCME), New York State United Teachers-AFT/NEA (NYSUT-AFT/NEA), IBEW, AFSCME Council 66 and Multi-Craft Apprenticeship Preparation Program.
Kenneth Quinnell
Wed, 11/02/2022 – 09:38