Service + Solidarity Spotlight: Labor Reacts to the Chauvin Verdict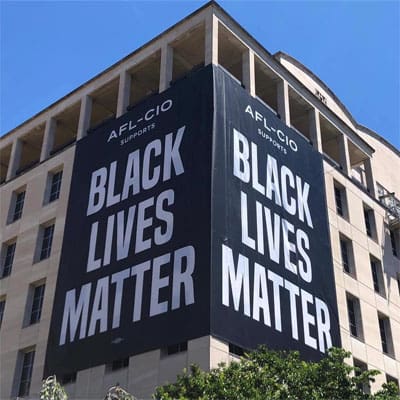 Working people across the United States have stepped up to help out our friends, neighbors and communities during these trying times. In our regular Service + Solidarity Spotlight series, we'll showcase one of these stories every day. Here's today's story.
On Tuesday, a jury found former police officer Derek Chauvin guilty of murdering George Floyd. While many in the labor movement were quick to commend the verdict, we also know that the work of racial justice must continue.
"Derek Chauvin has been held accountable for murdering George Floyd. While we celebrate today's verdict, we have so much work ahead of us in order to build a more just state and nation for everyone," said Minnesota AFL-CIO President Bill McCarthy (UNITE HERE). "Black Minnesotans continue to face police violence. George Floyd and Daunte Wright should still be alive today."
AFL-CIO's director of civil, human and women's rights, Clayola Brown, said, "Neither a judge nor a jury can restore the lives of so many people of color who have been taken from us. What a jury can and must do is provide justice to all. That verdict was monumental for our country. We pray that George Floyd's family finds some peace in this decision. The verdict confirms that if we fight, we can win. There is an appreciation that it's not just us. The killing must stop, the violence must stop and justice must start."
In the wake of Tuesday's guilty verdict in the Derek Chauvin trial, AFGE is reaffirming its commitment to creating safer and more effective policing policies across the country. "It's gratifying to see today that a central principle of American justice has been upheld. No one is above the law," AFGE National President Everett Kelley said on Tuesday. "It is my fervent hope that today's verdict can be a catalyst for positive change, uniting us all in the pursuit of real, systemic criminal justice and policing reforms with broad support that can help us build a future where these killings stop happening."
While no verdict can bring back George Floyd, the jury's finding in this case is a demonstration of accountability. Painters and Allied Trades (IUPAT) General President Kenneth Rigmaiden issued a statement on Tuesday: "We know there is so much more work to be done to end systemic racism in this country and the workplace. There can be no justice with rampant economic inequality, a more imprisoned, policed and militarized population than any major country, and one which since its inception has been built on the continued exploitation of Black and Brown workers. Our union stands in solidarity with those who've been in the streets demanding true justice and will continue to do so until it's gotten."
Kenneth Quinnell
Fri, 04/23/2021 – 09:45