Service + Solidarity Spotlight: Register for AFL-CIO's 2023 MLK Conference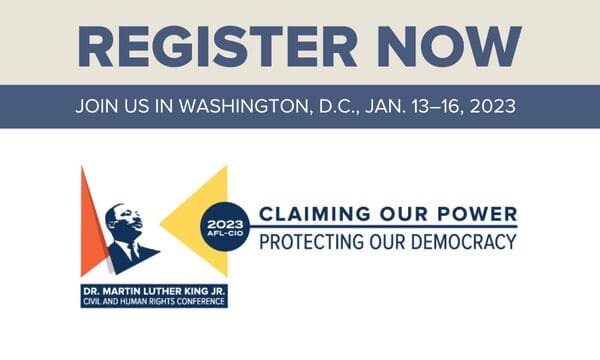 Working people across the United States have stepped up to help out our friends, neighbors and communities during these trying times. In our regular Service + Solidarity Spotlight series, we'll showcase one of these stories every day. Here's today's story.
The 2023 AFL-CIO Dr. Martin Luther King Jr. Civil and Human Rights Conference will be held in January in Washington, D.C. As we've seen over the past few years, there is so much work left to be done to advance civil and human rights, both across the country and inside our own labor movement. We hope you will join us for this engaging, inspiring and educational experience.
Visit TheMLKConference.org for more information and to register.
Kenneth Quinnell
Mon, 11/21/2022 – 10:12