Service + Solidarity Spotlight: RWDSU-UFCW Secures Big Win for Worker Safety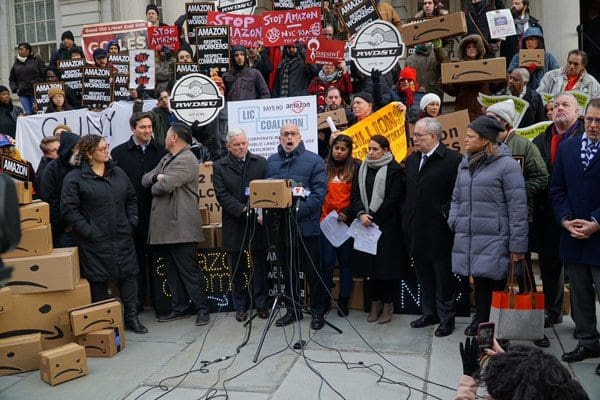 Working people across the United States have stepped up to help out our friends, neighbors and communities during these trying times. In our regular Service + Solidarity Spotlight series, we'll showcase one of these stories every day. Here's today's story.
Earlier today, New York Gov. Kathy Hochul signed into law the Warehouse Worker Protection Act that will help protect workers in the warehousing industry from inhumane quotas. The Retail, Wholesale and Department Store Union-UFCW (RWDSU-UFCW), which has championed this new law, said it will safeguard warehouse workers at companies such as Amazon who are suffering from injuries and illnesses on the job.
"…We have seen increased stress, pain and resulting safety issues for warehouse workers, due to increased quotas and speeds," RWDSU President Stuart Appelbaum (pictured above, center) explained. "Today, we've achieved a big win for workers' safety."
"First and foremost, I want to congratulate RWDSU President Stuart Appelbaum on this tremendous victory," said New York State AFL-CIO President Mario Cilento (TNG-CWA). "This law is a big step forward on protecting the health, safety and labor rights of warehouse workers. No worker should have to risk injury or illness to meet inhumane quotas. This new law was desperately needed and will put in place critical protections to ensure a safe workplace."
Kenneth Quinnell
Tue, 01/03/2023 – 12:11