Service + Solidarity Spotlight: UNITE HERE Hits 1.5M Doors (and Counting) in Battleground States of Nevada, Pennsylvania, Arizona and Georgia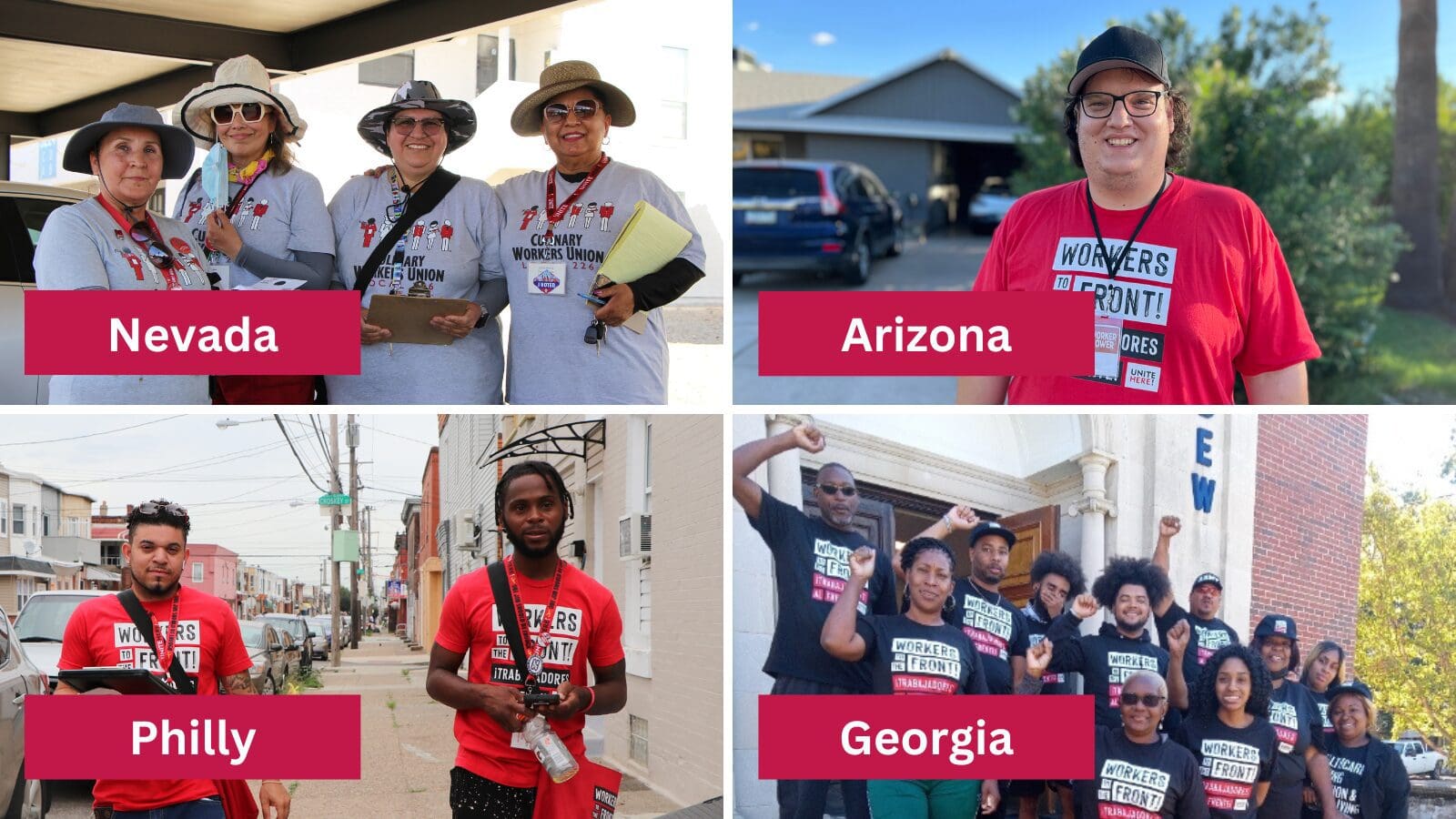 Working people across the United States have stepped up to help out our friends, neighbors and communities during these trying times. In our regular Service + Solidarity Spotlight series, we'll showcase one of these stories every day. Here's today's story.
In four of the battleground states—Nevada, Arizona, Pennsylvania and Georgia—hospitality workers with UNITE HERE are talking to thousands of voters in a program the union calls "Workers to the Front." UNITE HERE is leading the largest statewide canvassing efforts in Nevada, Arizona and Pennsylvania, with support from the AFL-CIO, other unions and many allies. Already, UNITE HERE canvassers have hit more than 1.5 million doors and plan to hit many thousands more by Election Day.
For months, UNITE HERE members have been knocking doors to elect candidates who support working people and stop anti-worker politicians from grabbing control of the U.S. Senate and state governments. UNITE HERE has recruited hundreds of people from across the union to staff out its programs in these battleground states, where canvassers work full time, six days a week, to move unlikely voters to the polls in tight races.
Canvassers with UNITE HERE's program in Nevada, led by its largest affiliate—the Culinary Union-UNITE HERE Local 226—have knocked on over 711,000 doors and are on track to hit nearly 1 million by Nov. 8. With less than two weeks until Election Day, the Culinary Union has hit more doors in Nevada than it did in 2020. In Pennsylvania, UNITE HERE canvassers, led by UNITE HERE locals 274 and 634, have knocked on over 500,000 doors in Philadelphia and the surrounding areas, targeting Black, Brown and low-income neighborhoods. In Arizona, UNITE HERE Local 11 is leading a major canvassing operation, too—which just hit 250,000 doors last week. In Georgia, UNITE HERE Local 23 is standing up the union's newest operation in Columbus. In less than two weeks, the canvassers there have hit 7,500 doors.
In each of these states, high-stakes races are determined by increasingly razor-thin margins, and the stakes couldn't be higher. With the labor movement's support, UNITE HERE is running its largest political program in history because the in-person political organizing at the doors can make the critical difference.
Kenneth Quinnell
Fri, 10/28/2022 – 09:42