Service + Solidarity Spotlight: Wear Blue on Jan. 11 to Raise Awareness About Human Trafficking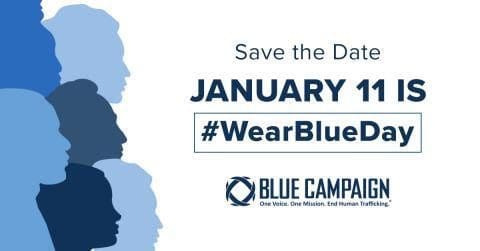 Working people across the United States have stepped up to help out our friends, neighbors and communities during these trying times. In our regular Service + Solidarity Spotlight series, we'll showcase one of these stories every day. Here's today's story.
The Association of Flight Attendants-CWA (AFA-CWA) is participating in #WearBlueDay on Jan. 11 to help raise awareness about human trafficking. AFA–CWA is joining with the Department of Homeland Security on the Blue Campaign, which seeks to end human trafficking worldwide. Jan. 11 is National Human Trafficking Awareness Day, and DHS, AFA-CWA and others are sharing information that educates the public about the problem and what can be done to reduce and eliminate human trafficking.
Learn more about the indicators of human trafficking and the efforts of the Blue Campaign. To report suspected human trafficking to federal law enforcement, call 866-347-2423.
Kenneth Quinnell
Wed, 01/04/2023 – 09:39