Service + Solidarity Spotlight: Women of Steel Raise Funds and Awareness for Victims of Domestic Violence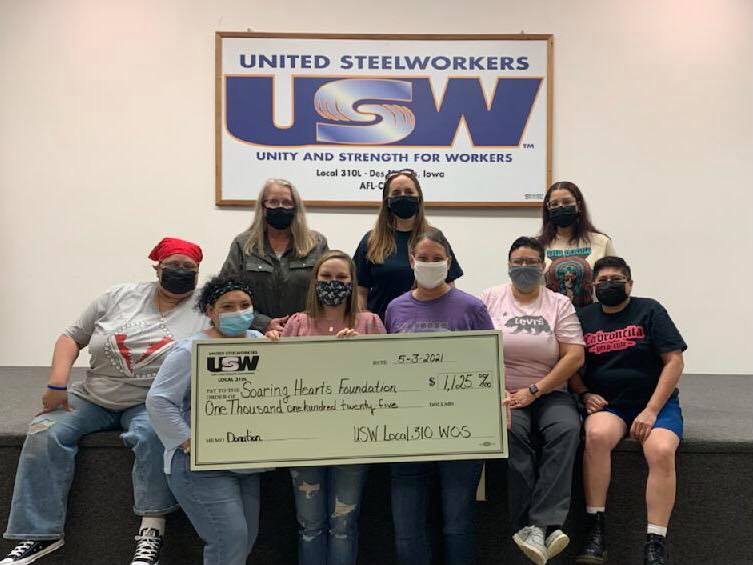 Working people across the United States have stepped up to help out our friends, neighbors and communities during these trying times. In our regular Service + Solidarity Spotlight series, we'll showcase one of these stories every day. Here's today's story.
The Women of Steel committee at United Steelworkers (USW) Local 310L in Des Moines, Iowa, recently raised $1,125 for the Soaring Hearts Foundation, a cause near and dear to their hearts. Unfortunately, the local lost one of their union sisters to domestic violence in 2014, and the foundation's founder, Tiffany Allison, a domestic abuse survivor, helped her family and the local navigate their grief and trauma. Then in 2017, the local lost yet another sister to domestic violence, and Tiffany was once again at their side. "We have maintained a relationship with Tiffany and try to support her work," the committee said.
The Women of Steel committee out of Local 8-957 in West Virginia also continued their campaign to keep alive the memory of their union sister Tammy Teagarden and her children, who were killed in a domestic violence incident several years ago. This year the committee filled gift bags for women and children residing at several domestic violence shelters. A special catered dinner was also provided.
Kenneth Quinnell
Thu, 05/20/2021 – 08:00