IAM District 751 member David Henry participated in the hunt of a lifetime as part of Union Sportsman's Alliance Brotherhood Outdoors television series. The episode will first air on Tuesday, July 6 at 4 p.m. ET.
Henry, an IAM Local 751C machine repair mechanic, accompanied the Brotherhood Outdoors crew to the Sierra Madre mountains in Chihuahua, Mexico to hunt Gould's turkeys. He is an avid upland bird hunter, but this was his first time turkey hunting.
Watch a preview of the episode.
Henry said the most memorable part of the trip was "the camaraderie we had sharing these moments hunting, the story telling that always happens in a hunting camp and meeting and sharing the pursuit of wild game in its natural habitat."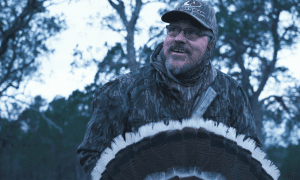 "This was my first turkey, first time hunting turkeys, first time in Mexico, it was great," said Henry.
"Our membership is comprised of people from all walks of life with unique passions and talents that go beyond the workplace," said IAM Western Territory General Vice President Gary R. Allen. "We join in the celebration of those passions and commend Union Sportsman's Alliance for documenting Brother Henry's hunt and telling similar stories that work to bring us closer together. I look forward to watching Brother Henry's episode."
"What a great opportunity for David to participate in such an awesome event," said IAM District 751 President/Directing Business Representative Jon Holden. "I know that he has spent many years advocating for his co-workers and it's great to see him experience this." 
You can view the episode with Henry's turkey hunt on Tuesday, July 6 at 4 p.m. ET with re-airings on Friday, July 9 at 11:30 a.m. ET, Saturday, July 10 at 1:30 a.m. and Sunday, July 11 at 11 a.m.
The post District 751 Member to Appear on Brotherhood Outdoors TV Show appeared first on IAMAW.