Today, February 23rd,  is the day an Asian American/Pacific Islander woman finally hits the annual salary from last year that of her non-Hispanic male counterpart.
The average Asian American/Pacific Islander Woman is paid $0.87 for every $1.00 paid to their white, non-Hispanic male counterpart, losing hundreds of thousands of dollars over an entire career. Vietnamese women earn $0.67, Hmong women earn $0.61, and Burmese women earn only $0.52, making them some of the lowest paid people in the nation. Even within high earning fields, Asian women are paid less than their male counterparts (see chart below). 
Women are starting to make up the majority of the union workforce these days and this is a prime reason! Unions ensure all workers, no matter their gender, are paid fairly.
It it time for change. We all should be equally paid for the same job classification.
That is why we work with Constituency Groups Like Asian Pacific American Labor Alliance (APALA). They work to help ensure the rights of not only the Asian American community but also working families in general. For more information on APALA go to their website: https://www.apalanet.org/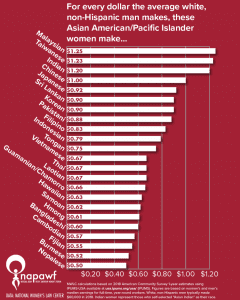 Source Credit: https://www.equalpaytoday.org/aapi-womens-equal-pay-day-2021
The post Asian American/Pacific Islander Women's Equal Pay Day is February 23 appeared first on IAMAW.