IAM Officers, Staff and Members — This email newsletter is an effort to better communicate with our membership on how the IAM is fully engaged on important legislative matters that affect our day-to-day lives. Our goal is to get this information out to our membership on the shop floors. Please make it a top priority to consistently share this important new initiative with our membership.
In solidarity,
Robert Martinez Jr.
International President
HELLO AND WELCOME TO MACHINISTS ON THE HILL, a twice-monthly roundup of legislative advocacy on behalf of IAM members.
Produced by: IAM Legislative and Communications Departments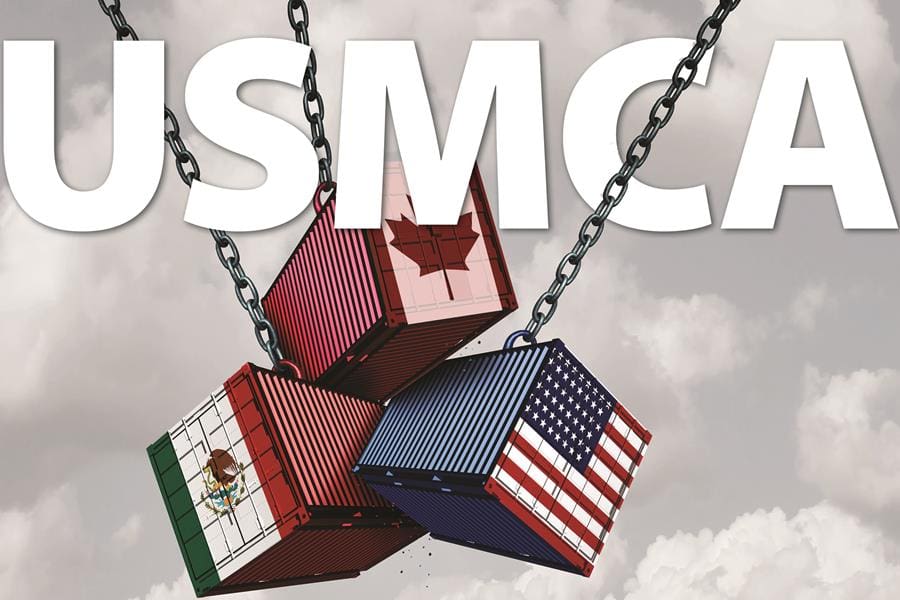 MACHINISTS UNION SUPPORTS LABOR STANDARDS PETITION FILED AGAINST MEXICO:  "The IAM, an affiliate of the AFL-CIO, strongly supports the first petition filed under the USMCA charging Mexico with violating the labor standards provisions of the trade agreement," said IAM International President Robert Martinez Jr.  "Workers at the auto parts plant Tridonex in Matamoros are entitled under the agreement to freely select the union they want. These rights were violated. Throughout the world, workers are entitled to the right to form a union. The company's conduct not only violated these fundamental human rights, but Mexico, which agreed to honor these rights under USMCA, must act quickly to enforce its laws and provide adequate and effective remedies to the workers.
"The IAM will work hard in the coming days to make sure that the labor standards in USMCA are enforced in all industrial sectors in Mexico, including aerospace."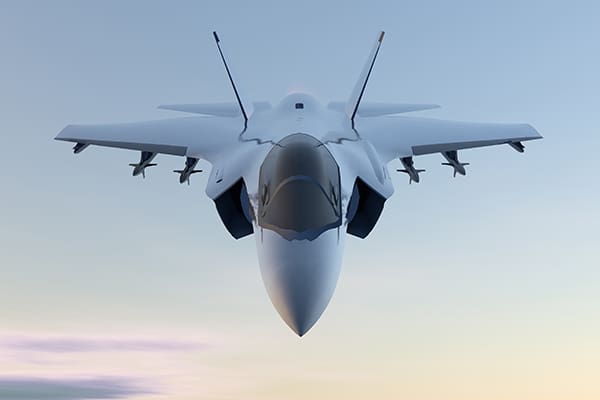 MACHINISTS UNION ADVOCACY GROWS BIPARTISAN SUPPORT FOR F-35 PROGRAM: The IAM's advocacy on Capitol Hill is paying dividends with growing bipartisan support for the F-35 program, which is proudly built by Machinists Union members. As Congress begins consideration of their Fiscal Year 2022 defense authorization and spending bills, the Machinists Union is working to ensure that Congress continues their investment in this vitally important defense program.
A bipartisan group of 132 House Representatives and 20 U.S. Senators recently penned their support of the F-35 program to House and Senate heads of the Appropriations and Armed Services committees.
IAM members work up and down the supply chain to build the F-35, which strengthens national security, enhances global partnerships and powers economic growth.
WATCH: Lawmakers applaud IAM members who build F-35
The IAM and allies in Congress are emphasizing the critical need to maintain course towards the F-35's full rate of production and an increased investment in modernization and sustainment in order to improve readiness and repair capacity as the program continues to grow.
"Machinists Union members take great pride in building the F-35 Joint Strike Fighter for three U.S. military services," said IAM International President Robert Martinez Jr. "The F-35 program creates a powerful economic impact for our nation and it produces a game-changing aircraft that keeps our fighter pilots safe. Now is the time to invest in the best air-to-air fighter by ramping up the production line to reduce unit costs and continue to handle the world's current and emerging threats."
READ: Our national security depends on a strong F-35 program built by American workers The Hill
The F-35 industrial base consists of more than 1,800 suppliers and more than 254,000 direct and indirect jobs across the country.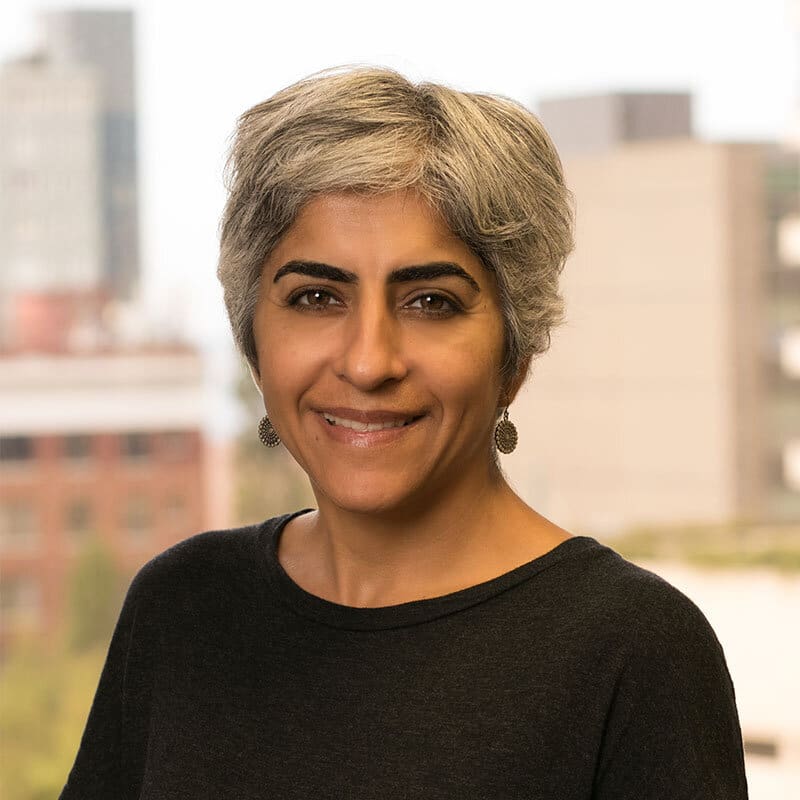 MACHINISTS ANNOUNCE SUPPORT FOR KIRAN AHUJA, PRESIDENT BIDEN'S CHOICE FOR DIRECTOR OF THE U.S. OFFICE OF PERSONNEL MANAGEMENT (OPM): "The IAM is proud to announce our support for President Biden's appointment of Kiran Ahuja, as director of the U.S. Office of Personnel Management (OPM)," said IAM International President Robert Martinez Jr. "No one is better equipped to protect our federal career workforce from patronage, discrimination, corruption and political overreach. Kiran will fight for all federal workers, regardless of their political affiliation or connections. The OPM provides critical support for government employees in all branches of the federal government, including many of our National Federation of Federal Employees (NFFE-IAM) members. The IAM looks forward to working with Kiran in uplifting our nation's career public workforce."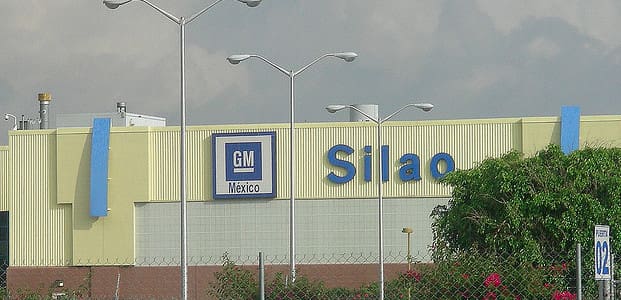 MACHINISTS UNION APPLAUDS USTR CALL FOR INVESTIGATION OF ALLEGED VIOLATIONS AT GENERAL MOTORS PLANT IN MEXICO: "The IAM applauds U.S. Trade Representative Ambassador Katherine Tai for seeking review under USMCA for what appears to be egregious violations of labor standards at a General Motors plant in Mexico," said IAM International President Robert Martinez Jr. "The action by USTR signifies that the United States will not sit idly by while basic labor standards are violated in Mexico. We look forward to many more self-initiated actions by the U.S. under the USMCA."
READ: U.S. asks Mexico to review alleged labor violations at GM plant The Detroit News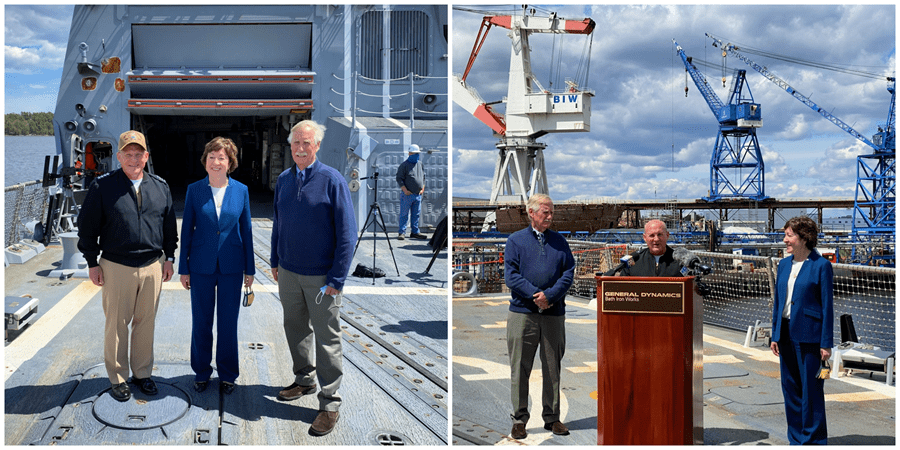 CNO AND MAINE SENATORS VISIT BATH IRON WORKS LOCAL S6 MEMBERS: Chief of Naval Operations (CNO) Adm. Mike Gilday, traveled to Bath, Maine, May 10 to visit Bath Iron Works with Sen. Susan Collins and Sen. Angus King.
"One of the most important reasons I am in Maine today is to ensure every person here knows their work is critically important to our Navy," said Gilday. "DDGs are the workhorse of our Fleet, and simply put, you can't get to the fight if you don't have ships to sail there. To the entire workforce here at Bath Iron Works who are responsible for helping us generate warfighting readiness, you have my profound thanks."
During the trip, Gilday and the Senators saw Bath Iron Works' shipyard facilities, toured and met with Sailors aboard USS Daniel Inouye (DDG 118).
"It was a pleasure to host Admiral Gilday in Maine to tour Bath Iron Works," said Senator Collins.  "I am proud of the highly skilled employees at BIW who build the best ships in the world.  Today's visit provided Adm. Gilday with the opportunity to see firsthand the impressive work that they do to provide our sailors with high quality and technologically advanced destroyers.  As a senior member of the Defense Appropriations Subcommittee, I will continue to be a strong advocate for the shipyard, and I look forward to working with the Navy to increase the size and capabilities of our fleet."
During the tour they also visited the Bath Iron Works Training Academy, which teaches new workers to become pipefitters, welders, tinsmiths, and other tradespeople.
"I've long believed that 'one day of seeing is better than one hundred days of reading.' Today, the CNO lived by that mantra by coming to get a firsthand look at the important work being done at Bath Iron Works," said King. "The ships being built at BIW are the workhorses of the Navy, playing an outsized role in our national defense – and they're all the product of the skill and dedication of Maine's shipbuilders. I'm grateful to the CNO for taking the time to visit BIW, which is an essential part of our national defense infrastructure and a major economic engine for the State of Maine. In the months ahead, I will continue collaborating with Navy leaders and my colleagues on the Senate Armed Services Committee to ensure that this shipyard has the tools it need to continue bolstering our national defense and supporting thousands of good-paying jobs for families throughout Maine."
 The visit marked CNO's first trip to Bath Iron Works.
READ: US Navy's top officer applauds workforce at Bath Iron Works Navy Times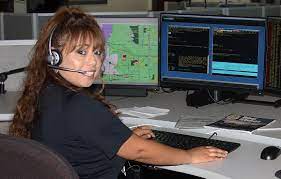 MACHINISTS UNION URGES CONGRESS TO SUPPORT THE 911 SAVES ACT: The IAM is urging members of Congress to cosponsor H.R.2351, the 911 SAVES Act sponsored by Rep. Norma Torres (D-CA) and Brian Fitzpatrick (R-PA).
The bill directs the U.S. Office of Management and Budget (OMB) to update their classification for Public Safety Telecommunicators, as a protective service within the Standard Occupational Classification (SOC) catalog that is used for statistical purposes.
The Machinists Union represents Public Safety (9-1-1) Dispatchers in the City of Long Beach, CA.
"They work hard and bear the unbelievable stress of emergencies every minute of their day, said IAM International President Robert Martinez Jr. Having them properly reclassified and giving them the recognition they deserve for the work they do, is the right thing to do. They not only save the lives of the public but also the lives of first responders and they should be valued.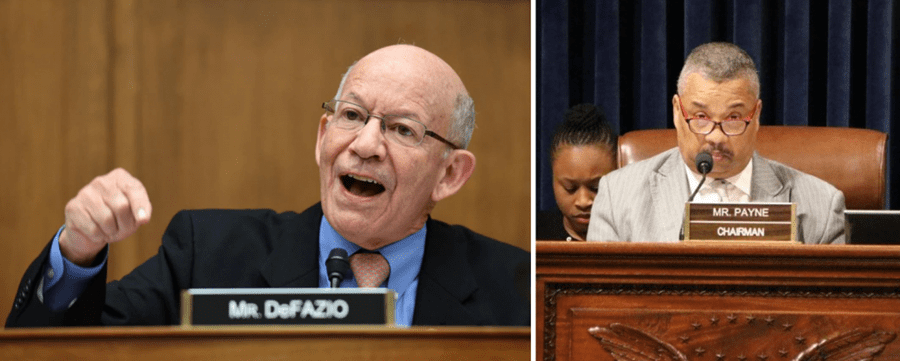 HOUSE LEADERS REQUEST STUDY ON THE IMPACTS OF PRECISION SCHEDULED RAILROADING ON WORKERS, SAFETY, AND SHIPPERS: Chairman of the House Committee on Transportation and Infrastructure Peter DeFazio (D-OR) and Chairman of the Subcommittee on Railroads Donald M. Payne, Jr. (D-NJ) are requesting the U.S. Government Accountability Office (GAO) to examine the impacts of precision scheduled railroading (PSR) on workers, safety, freight shippers, passenger railroads, and long-term management of the nation's railroads.
"PSR in practice means the bottom line drives the decisions," said DeFazio. "Longer trains, unhappy shippers, and a workforce pushed to do more with less is not a model to chase after – unless you're on Wall Street. But we can't let hedge fund managers write the rules of railroading. Last Congress, my Committee heard from various stakeholders concerned for the immediate and long-term impacts of PSR. This study, passed by the House last year in my surface transportation reauthorization bill, the INVEST in America Act, will help us find ways to address the impacts this railroad management strategy has on workers, freight shippers, passenger railroads, and rail safety."
"Precision scheduled railroading is being used more and more throughout the rail industry," said Payne, Jr. "But I am concerned that this strategy could come at the expense of worker safety and smart, long-term railroad management. We need more information about this practice to determine whether it is beneficial or harmful to our nation's railroad system."
"This is a long time coming," said TCU/IAM National President Artie Maratea. "This PSR scheme has seen railroaders furloughed by the many thousands, with those remaining being routinely overworked with zero regard for their safety. We can't continue to let Wall Street dictate freight rail operations, and we're grateful for leaders like Chairmen DeFazio and Payne that are stepping up for rail workers."
The request cites the recent Vice News article where TCU/IAM Carmen Division National Representative Jason Cox was quoted saying, "It's only a matter of time before fatigued workers, unrealistic inspection policies, and unqualified inspections result in a major incident in someone's neighborhood."
• Related: CBS News affiliate interviews TCU's Kevin Loftin on PSR, train safety
In 2019, IAM District 19 Assistant to the President Andrew Sandberg testified before the House Railroads Subcommittee on behalf of IAM and TCU's railroad membership: "Our union supports efforts to efficiently operate our nation's railroads. We want our employers to be profitable—as profits lead to raises and quality benefits for our members," said Sandberg. "However, we are concerned that current PSR schemes are detrimental to the long-term outlook of the rail industry, putting short-term gains ahead of long-term success—furloughing thousands, while degrading safety. PSR schemes are designed to increase short-term profits for shareholders, at any cost."
The conducting of a GAO study will help shine further light on what railroaders already know: that PSR is killing our jobs while making our nation's world-class freight rail industry less safe. We are confident that a GAO study will count as an official word on PSR, and encourage other safety and economic regulators at both the state and federal level to increase their scrutiny and policing of the destructive business model.
Click here to read the letter from Chairmen DeFazio and Payne to the GAO
HOUSE VETERANS AFFAIRS COMMITTEE PASSES BILL TO GIVE VA PROFESSIONALS SAY ON CARE, CONDITIONS, SAFETY & STAFFING: House Veterans Affairs Committee Passes Bill to Give VA Medical Professionals Say on Care, Conditions, Safety & Staffing: The House Committee on Veterans Affairs passed the VA Employee Fairness Act (H.R. 1948) that aims to provide Department of Veterans Affairs (VA) medical professionals and clinicians with the right to provide input over issues of patient care and employment conditions.  The bill gives VA employees covered under Title 38 authority the right to negotiate over working conditions, patient safety, proper staffing and assignments, special compensation for recruitment and retention, and protection against retaliation for reporting improper care or conditions at the VA. "The most important part of this bill is that it brings VA patients closer to those who care for them," said Randy Erwin, NFFE-IAM National President.  "By giving VA caregivers say over their ability to treat their patients effectively and efficiently, our veterans win."
The post Labor Standards Petition Filed Against Mexico – CNO and Maine Senators visit Bath Iron Works Local S6 Members– House Leaders Request Study on the Impacts of PSR appeared first on IAMAW.