This year Latina Equal Pay Day falls on October 21st.  That is correct, it takes one year and 10 months for the average Latina woman to earn the wages that her white non-Hispanic male counterparts make in a year. Latinas typically earn only 55 cents for every dollar earned by white, non-Hispanic men. Given that this is the last "Equal Pay Day" observance of the year, Latinas must work longer than … everyone. This disparity hurts not only Latinas, but also the families and communities they support. (Latinaequalpay.org)
That is why we partner with consistency groups like Labor Council for Latin American Advancement (LCLAA). They have been educating, lobbying and organizing for Latinos' rights for the past 48 years.
We need groups like LCLAA to help us fight for Latinas' rights, more so now than ever during the current pandemic. EPI reports that many Latinas are essential workers. These occupations include grocery stores, restaurant and service industry jobs like hotels, teachers, and child care workers. Those in the hotel and restaurant industries have also heavily shouldered the cost of job loss (EPI).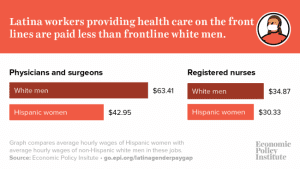 Source: EPI
Even among higher paying jobs, Latinas still trail woefully behind, The largest pay disparities are shown in the medical field among doctors and nurses.
Your voice needs to be heard this day to help stop the pay disparity for Latina Women. Help in the fight and visit https://www.latinaequalpay.org/ and participate in the twitter storm or other activities near you.
Resources:
https://www.epi.org/blog/latina-equal-pay-day-essential-latina-workers-face-substantial-pay-gap-during-covid-19-pandemic/
The post Latina Equal Pay Day appeared first on IAMAW.