Friday, January 15, 2021
IAM Officers, Staff and Members — This email newsletter is an effort to better communicate with our membership on how the IAM is fully engaged on important legislative matters that affect our day-to-day lives. Our goal is to get this information out to our membership on the shop floors. Please make it a top priority to consistently share this important new initiative with our membership.
In solidarity,
Robert Martinez Jr.
International President
HELLO AND WELCOME TO MACHINISTS ON THE HILL, a twice-monthly roundup of legislative advocacy on behalf of IAM members.
Produced by: IAM Legislative and Communications Departments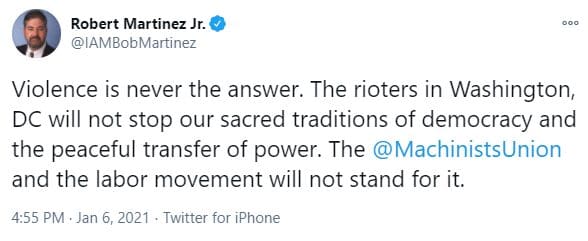 MACHINISTS, LABOR MOVEMENT DENOUNCE INSURRECTION AT U.S. CAPITOL: The IAM and America's unions will not allow political violence to stop the American tradition of a peaceful transfer of power, IAM International President Robert Martinez Jr. said after a mob attacked the U.S. Capitol last week. Five people have now lost their lives as a result of the mob attack.
After a free and fair election on Nov. 3, IAM-endorsed candidates Joe Biden and Kamala Harris will be inaugurated as president and vice president on Jan. 20.
TCU/IAM National President Artie Maratea said the union "will continue to denounce all forms of violence used in the pursuit of political goals."
READ: Working People Respond to Attempted Coup at Nation's Capitol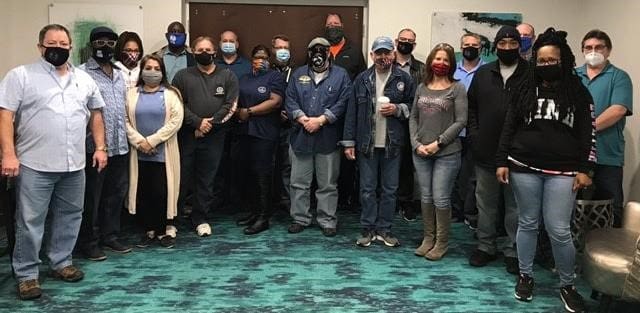 MACHINISTS, LABOR MOBILIZATION DELIVERS WORKING PEOPLE'S WIN IN GEORGIA: The hard work of IAM members from the Southern Territory, Transportation Department and Grand Lodge, who volunteered their time over the past months, has paid off with historic wins for pro-worker candidates, Rev. Raphael Warnock and Jon Ossoff, in the Georgia U.S. Senate runoffs. The victories will shift the balance of power in the Senate.
"I would like to thank all Machinists Union members who sacrificed their time by mobilizing for months to ensure the futures of all working people," said IAM International President Robert Martinez Jr. "The results in Georgia make the passing of the PRO Act, pension reform and real COVID relief that all families desperately need and deserve more attainable. The hard work to deliver on these promises to heal our country begins now."
IAM members contacted thousands of Georgia Machinists via member-to- member phone calls, robocalls, local mailers, door hangers, text messages and emails. TCU/IAM and NFFE-IAM Federal District 1 members also volunteered.
"I have personally been in Georgia over the holiday working with these dedicated Brothers and Sisters to take back the U.S. Senate for working people," said IAM Southern Territory General Vice President Rickey Wallace. "Together we have contacted thousands of members with door hangers and phone calls. We have been mobilized for months in Atlanta, Savannah, Augusta, Albany, Macon and across the state. I want to thank the Legislative and Political Department, my entire staff, especially Grand Lodge Representatives James Parker and Tim Wright, our field liaisons and directors, as well as the leadership and members of Local 709, and Districts 75, 776, 131, 112, 1888 and W2021 for putting in so much effort throughout these campaigns. This has been a true team effort at every level of our union."
"I want to thank the members from Local Lodge 2665 in Atlanta who mobilized to help ensure IAM voices are heard, and the volunteers from all three Transportation District Lodges across the country who made phone calls to IAM members in Georgia because the outcome there will be felt nationwide," said IAM Transportation General Vice President Sito Pantoja.
For more on the Senate races in Georgia, visit iam2020.org/georgia.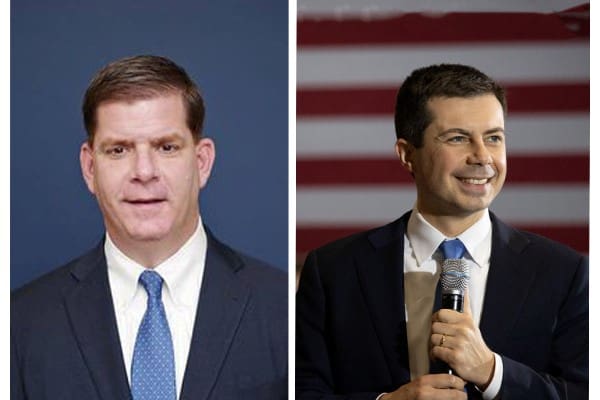 BIDEN NOMINEES FOR LABOR, TRANSPORTATION DEPARTMENTS WILL BE ALLIES OF WORKING PEOPLE: The IAM is praising the nominations of Boston Mayor Marty Walsh and former South Bend Mayor Pete Buttigieg to serve as Labor Secretary and Transportation Secretary, respectively, in the incoming Biden administration.
"Mayor Walsh proved himself to be a fierce ally of our union by helping us fight back against the privatization of more than 400 IAM Local 264 bus mechanic jobs at the Massachusetts Bay Transportation Authority," said IAM International President Robert Martinez Jr. "Thanks to Mayor Walsh joining our strong labor coalition, we saved those jobs for working families and Boston public transit riders. Mayor Walsh is a true fighter for working families, and we can't wait to see what we can accomplish together on a national stage."
The Machinists Union is urging a swift Senate confirmation of both nominees.
"The IAM, the largest transportation union in the United States, applauds President-elect Joe Biden's selection of Pete Buttigieg to serve as the U.S. Secretary of Transportation," said Martinez. "Buttigieg understands that U.S. transportation workers are the ones who move the American people and serve as the cornerstone of our nation's economy."
"Pete Buttigieg has proven time and time again that he not only listens to the working men and women of our nation, he believes in them," said IAM Transportation General Vice President Sito Pantoja. "The IAM is looking forward to working with Pete Buttigieg on the massive transportation challenges that are awaiting the Biden Administration."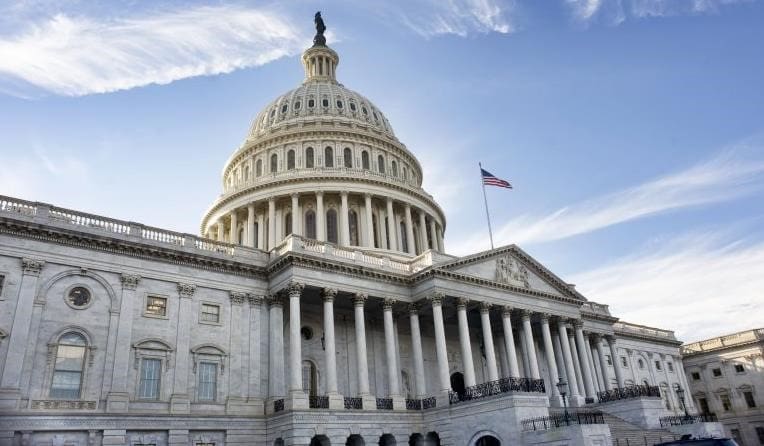 MACHINISTS WIN SUPPORT FOR MEMBERS IN LONG-OVERDUE COVID RELIEF BILL, BUT MUCH MORE IS NEEDED: The Machinists Union, along with allies in labor and on Capitol Hill, won critical provisions to help IAM members and working people who remain deeply affected by the COVID-19 crisis in the latest emergency relief legislation poised to be passed by Congress.
Top-Line Impacts for IAM Members
– Direct Payments: An additional round of Economic Impact Payments of $600 for individuals making up to $75,000 per year and $1,200 for couples making up to $150,000 per year, as well as a $600 payment for each child dependent. This means a family of four will receive $2,400 in direct payments.
– Airline Worker Relief: The airline Payroll Support Program (PSP) has been extended until March 31, 2021. Thousands of IAM airline members will go back to work. This extension prohibits any airline accepting additional PSP funds from involuntarily furloughing employees for the duration of the program.
– Transit Worker Relief: The package includes extended and enhanced unemployment benefits for railroad employees, plus an extension of the waiver of the seven-day waiting period. Amtrak is restricted from furloughing additional employees.
– Unemployment Assistance: Those who are out of work will get an extra $300 per week in federal cash through March 14, 2021. The legislation also extends employment benefits to self-employed individuals, gig workers, and those who've exhausted their state benefits. 
– Eviction Ban Extended: A federal eviction ban has been extended through the end of January.
"We urge Congress to return next year and immediately work with the incoming Biden-Harris administration to expand upon this legislation with a more comprehensive package that will safeguard the livelihoods and futures of all IAM members and working people," said IAM International President Robert Martinez Jr. "I want to thank our Legislative Department, as well as Transportation General Vice President Sito Pantoja and TCU/IAM National President Artie Maratea for all their hard work and unrelenting pressure behind the scenes to get this deal done."
"The IAM leadership, membership and legislative team have been working tirelessly with other AFL-CIO unions since last May to secure additional relief for our air and rail members," said IAM Transportation General Vice President Sito Pantoja. "Thousands of IAM member emails, phone calls and video meetings with Senators and House members across the country made sure the transportation industry was not forgotten in this round of economic relief."
READ: TCU/IAM COVID-19 Relief and FY2021 Spending Bill Recap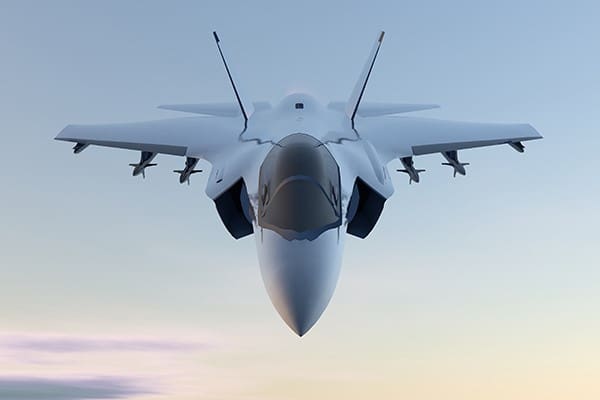 IAM PLAYS CRITICAL ROLE IN CONGRESS OVERRIDING TRUMP'S VETO OF DEFENSE BILL: Congress, feeling pressure from the IAM and other labor leaders, delivered a harsh rebuke to President Trump by overwhelmingly overriding his veto of the National Defense Authorization Act (NDAA). The IAM had been pressuring Congress to quickly vote again to approve this bipartisan bill that will fund numerous military programs built and maintained by Machinists members.
"President Trump tried to use the great men and women of our military as pawns in his agenda to defend confederate names of military bases," said IAM International President Robert Martinez Jr. "Our legislative team worked around the clock to ensure Congress voted again to get this crucial bipartisan legislation passed that will help preserve hundreds of thousands of IAM aerospace defense and shipbuilding jobs."
Thanks to the IAM's lobbying efforts, the 2021 NDAA authorizes funding for the following IAM-built and maintained programs:
– 93 F-35 Joint Strike Fighters
– 24 F-18 Super Hornets
– 15 C-130 Super Hercules
– 12 F-15 Eagles
– 15 KC-46 Tankers
– Eight P-8 Poseidons
– Two DDG-51 Arleigh Burke-class Destroyers
– One Columbia-class Ballistic Submarine
– Two Virginia-class Attack Submarines
The 2021 NDAA (H.R. 6395) also includes a well-deserved 3% pay raise for our nation's armed service members and also provides additional pandemic leave and paid parental leave provisions for most federal employees.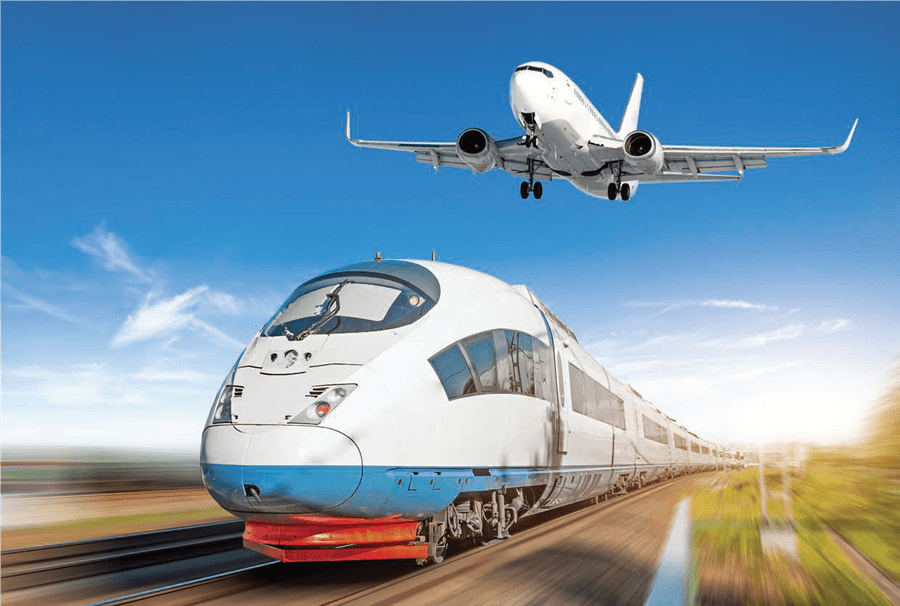 MACHINISTS, TCU/IAM CALL FOR PROTECTIONS FOR AIRLINE, RAIL MEMBERS AHEAD OF INAUGURATION: The IAM and TCU/IAM are advocating for increased security measures to ensure the safety of all airline and rail workers and passengers ahead of potential violence leading up to the inauguration.  
"While there have been some security improvements at airports and rail stations, more needs to be done," said IAM Transportation General Vice President Sito Pantoja. "We have already witnessed dangerous behavior on aircraft from unruly passengers and with reports circulating of upcoming "protests" nationwide in the days leading up to the inauguration, the threat of violence to airline and rail workers and passengers will be increased.
 
"I, therefore, urge Amtrak to immediately liaise with local and federal law enforcement to ensure a robust and visible police presence at Union Station, and that crowd control measures and fortifications – to the fullest extent practicable – are erected to protect employees and passengers," said TCU/IAM National President Artie Maratea. "Amtrak should also explore the practicality of coordinating with the Transportation Security Administration (TSA) to utilize the 'No-fly' list in screening passenger manifests, and deny ticket sales to those passengers."
NFFE-IAM SCORES 2021 OMNIBUS WIN TO EXTEND PAYROLL TAX REPAYMENT: NFFE-IAM secured a win to help federal employees repay the payroll taxes that were not withheld by the government during the last quarter of 2020.  
The provision was included in the omnibus appropriations bill, now allowing employees to repay the taxes over the entire 2021 calendar year through equal payments. Until the law passed, employees were expected to repay the taxes by April.
NFFE-IAM continues to push for payroll tax forgiveness based on the logic that employees were forced into tax debt against their will, as ordered through a foolish Trump executive order.  
The post Standing Up for Democracy — Taking Back the Senate — Allies in the Biden/Harris Administration appeared first on IAMAW.