TCU Carmen Division Lodge 6013 Members Kirk Sorensen and Matt Schneeberg were recognized by Canadian National Railroad (CN) for their quick actions in helping a 11 year old girl, they found on a train, to safety.
"We were conducting an inspection of a train last November in Stevens Point, WI watching carefully as it went by when we spotted her," said Brother Sorensen. "A young girl was riding on the crossover support of the stacked train, trying to keep her balance as the train moved. We couldn't believe our eyes; it was a real shock."
Since it was a cold day and the girl was dressed only in a light fall jacket, they let her warm up inside their truck.
They offered her some water and called the yard office and local police. It turns out the girl was 11 years old, a Runaway and the police had been looking for her.
"The quick actions of these Carmen saved this girl from serious injury and probably saved her life," said TCU Carmen Division President Rich Johnson. "Brothers Sorensen and Schneeberg are heroes and TCU is proud of their work and dedication to safety."
Below is the release from CN: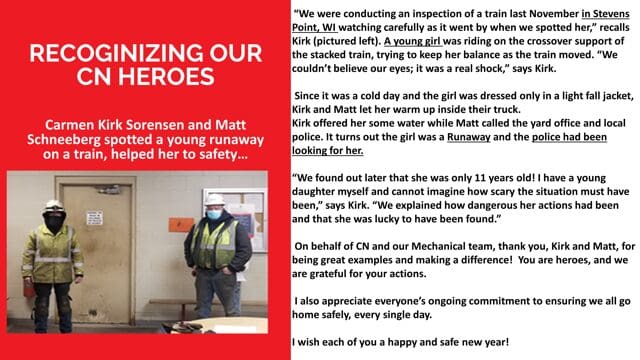 The post TCU Lodge 6013 Members Recognized by CN for Quick Actions to Help Young Runaway to Safety appeared first on IAMAW.