A group of 12 members from IAM Local 623 spent a recent Saturday building wall shelving for Promise Neighborhood Central (PNC), a community organization in St. Cloud, MN.
Promise Neighborhood Central is an important community hub for low-income families in the area. It provides year-round academic programs for youth and resources and training for adults.
District 77 organizer Brittany Anderson arranged the IAM H.E.L.P.S. project with help from Grand Lodge Representative Geny Ulloa and District 77 Directing Business Representative John Steigauf, recruiting Local 623 members who weren't previously active in union events.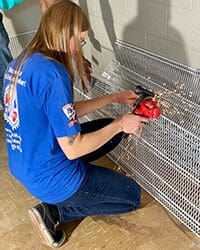 "We had a few young members who hadn't been involved before," said Anderson. "They saw the flyer and it resonated with their values, so they participated, got to know their union siblings and now they are involved."
The volunteers replaced unstable free-standing shelves with wall shelving in four different rooms.
"The shelves they had before took up a lot of room and didn't quite fit the space," said Anderson. "Our members are super handy, from both their work and home improvement in their free time, so they had the know-how to install shelves directly into the walls and customize them to fit the space specifically for what PNC needed."
The new shelving created more space in PNC's library and greatly increased the capacity of its food and diaper pantries.
"As union members and leaders, community service is crucial for building relationships with our members outside of work," said Steigauf. "It reminds people that the union is a resource made up of workers who want to help."
"Giving back to the communities in which we work and live is an important value within the IAM Midwest Territory," said IAM Midwest Territory General Vice President Steve Galloway. "Thank you to the members of IAM Local Lodge 623 for their commitment to the IAM H.E.L.P.S. program and their continued efforts to serve all those around them."
The post Minnesota Local 623 H.E.L.P.S. Community Hub Increase Pantry Capacity, Recruits New Activists appeared first on IAMAW.