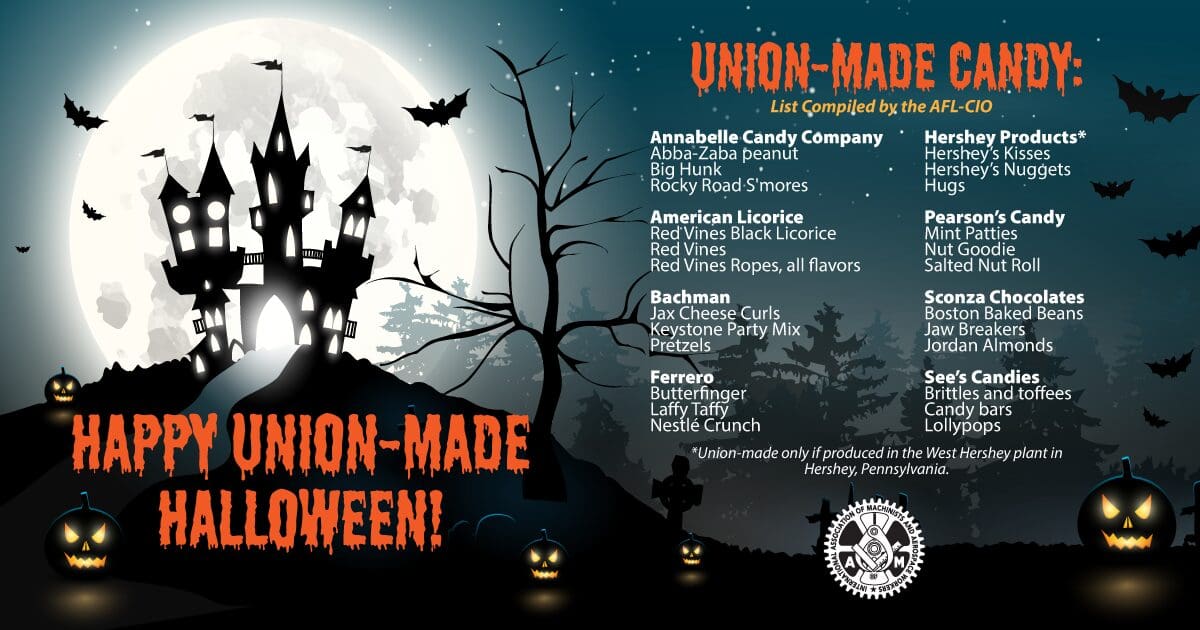 If you plan to celebrate Halloween, don't forget to buy union-made in America treats.
See the handy list of union-made candy and sweets below, provided by the AFL-CIO.
These treats are made by companies that treat their workers fairly. When you consume these, you will be supporting the hardworking people in our union family.
Union-Made Candy
Annabelle Candy Company
Abba-Zaba peanut

Big Hunk

Rocky Road S'mores

U-No
American Licorice
Red Vines Black Licorice

Red Vines

Red Vines Ropes, all flavors
Bachman
Jax Cheese Curls

Keystone Party Mix

Pretzels
Ferrero
Baby Ruth

Butterfinger

Laffy Taffy

Nestlé Crunch 
Ghirardelli Chocolate
Chocolate Squares, all filled and nonfilled 

Chocolate Bars, all filled and nonfilled 

Chocolate Chips
Hershey Products*
Hershey's Kisses: Milk Chocolate, Candy Cane, Cookies and Cream, White Chocolate, Special Dark Chocolate

Hershey's Milk Chocolate Bars

Hershey's Milk Chocolate with Almonds Bars

Hershey's Nuggets

Hershey's Chocolate Santa Claus Claus Shaped Chocolate

Hugs
Pearson's Candy 
Mint Patties

Nut Goodie

Salted Nut Roll
Sconza Chocolates
Boston Baked Beans

Chocolate

Chocolate Cherries

Jaw Breakers

Jordan Almonds

Lemoncello Almonds
See's Candies 
Assorted chocolates 

Brittles and toffees

Candy bars

Lollypops

Nuts and chews

Truffles
Tootsie Roll Industries
Tootsie Pops, all sizes and flavors

Tootsie Rolls, all sizes and flavors
Wilbur Chocolate
*Union-made only if produced in the West Hershey plant in Hershey, Pennsylvania.
To view a more comprehensive list of more union-made sweets, visit Union Plus here.
The post Shop Union-Made Candies for Halloween appeared first on IAMAW.