Secretary of State Blinken Meets with Workers in Pittsburgh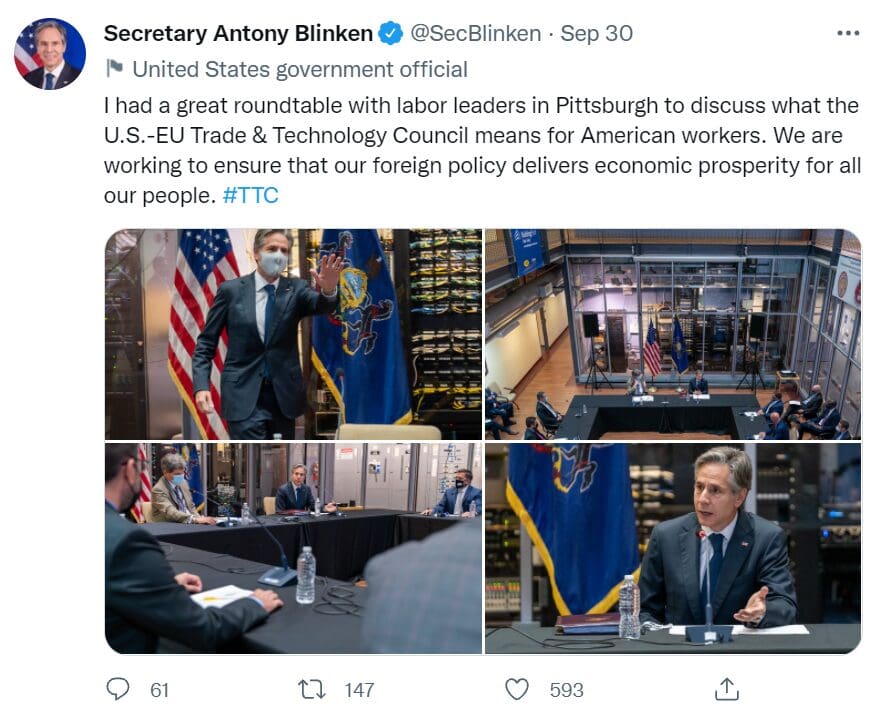 Pittsburgh played host last week to the inaugural E.U.-U.S. Trade and Technology Council meeting. Leaders from the European Union and the United States, including co-chairs of the council Secretary of Commerce Gina Raimondo, U.S. Trade Representative Katherine Tai and Secretary of State Antony Blinken, discussed issues ranging from technology standards to global trade to supply chain security during the day-and-a-half conference. 
After the last session on the second day, Blinken held a roundtable conversation with workers where they discussed trade policy, diplomacy, workers' rights, and the issues and challenges facing America's workers. Electrical Workers (IBEW) Local 5 hosted the roundtable, with members of the United Steelworkers (USW), United Food and Commercial Workers (UFCW), Communications Workers of America (CWA), the Allegheny-Fayette Central Labor Council, the Pennsylvania AFL-CIO, SEIU Healthcare Pennsylvania and the Teamsters.
"We believe strongly—the president believes strongly—that labor groups have to be our partner in policy, that includes foreign policy," Blinken said.
Kenneth Quinnell
Tue, 10/05/2021 – 10:45