Service + Solidarity Spotlight: NABTU Highlights America's Registered Apprenticeship System During National Apprenticeship Week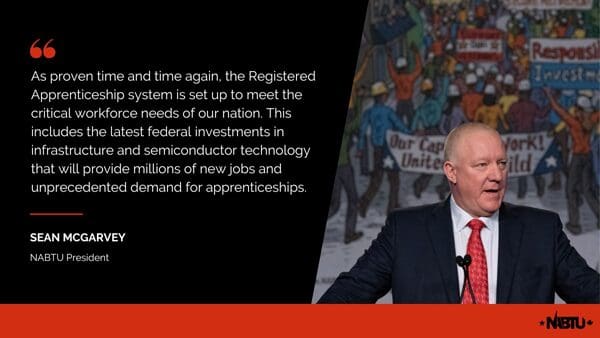 Working people across the United States have stepped up to help out our friends, neighbors and communities during these trying times. In our regular Service + Solidarity Spotlight series, we'll showcase one of these stories every day. Here's today's story.
This week is National Apprenticeship Week, and North America's Building Trades Unions (NABTU) is promoting an American success story: the registered apprenticeship system. NABTU President Sean McGarvey (IUPAT) emphasized how registered apprenticeship programs are crucial to massive federal investments in infrastructure and high-tech manufacturing.
"As our system expands to meet the demands for new workers in these critical infrastructure jobs, we are committed to recruiting more women, communities of color, indigenous people, veterans and the justice involved for these new opportunities in the unionized construction industry," McGarvey pledged. "That is why we are pleased to be part of [the Labor Department's] efforts like National Apprenticeship Week and look forward to helping continue to elevate and showcase this proven model to other industries and the American public."
Kenneth Quinnell
Fri, 11/18/2022 – 10:00