Service + Solidarity Spotlight: National Labor Leaders Show Solidarity with Temple Graduate Students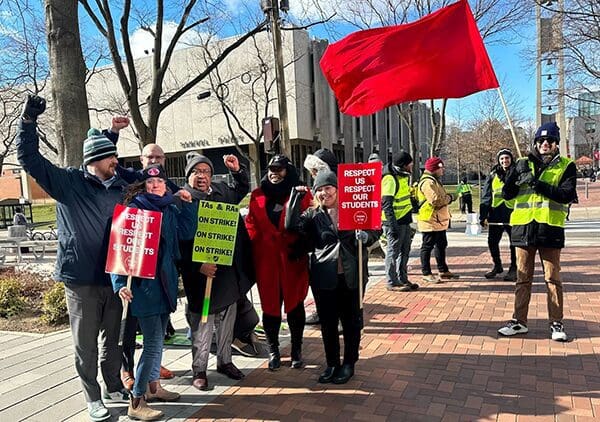 Working people across the United States have stepped up to help out our friends, neighbors and communities during these trying times. In our regular Service + Solidarity Spotlight series, we'll showcase one of these stories every day. Here's today's story.
Today, AFL-CIO Secretary-Treasurer Fred Redmond visited striking Temple University Graduate Students' Association (TUGSA) members, showing that the labor movement stands in solidarity with the striking graduate workers. TUGSA (AFT Local 6290) members have been bargaining with the school for more than a year, but Temple refuses to meet the workers' demands of a living wage, dependent health care, expanded leave and better working conditions.
Yesterday, American Federation of Teachers (AFT) President Randi Weingarten visited the striking TUGSA members. "It should not take a strike at an academic institution that professes it wants academic freedom and professes it wants to rise up the next generation," Weingarten said. "In my world, it is hypocrisy what you are doing."
The average graduate assistant at Temple makes less than $20,000 a year, barely half the cost of living in Philadelphia, where the university is. The annual cost for a family health care plan can be as high as 86% of the average graduate employee's salary. TUGSA workers are demanding the contract they deserve so they can provide an adequate education to their students.
Kenneth Quinnell
Mon, 02/06/2023 – 09:47