Service + Solidarity Spotlight: Redmond Promotes BIT Construction Project Putting Union Members to Work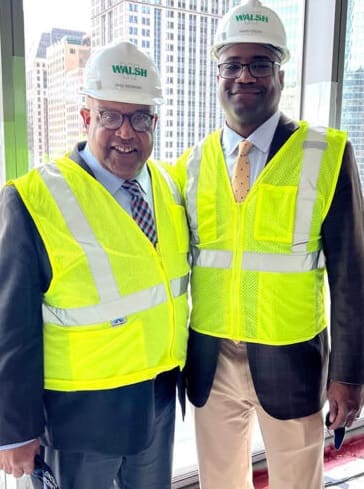 Working people across the United States have stepped up to help out our friends, neighbors and communities during these trying times. In our regular Service + Solidarity Spotlight series, we'll showcase one of these stories every day. Here's today's story.
AFL-CIO Secretary-Treasurer Fred Redmond went to Chicago on Wednesday to meet with union members and leaders. He toured Wolf Point South, a groundbreaking new construction project in the heart of the city that's putting hundreds of union members in the building trades to work. Like all other AFL-CIO Building Investment Trust (BIT) projects, Wolf Point South is 100% union-made. The BIT invested in all three phases of the development, which, when complete, will have generated more than 6 million hours of work for union construction trades on the site.
"The work of the AFL-CIO BIT, supporting projects like Wolf Point and others across the nation, is personal to me. I want every worker to have the same chance as my family, the chance to join a union, to work on projects like Wolf Point, and to succeed in achieving all their dreams. I want every working family to feel the power of the labor movement as a change agent for prosperity," Redmond said. "Wolf Point South, along with the other BIT construction projects, is a testament to what we can achieve together as a movement." Click here to read more about the event.
Kenneth Quinnell
Fri, 10/15/2021 – 09:31