Service + Solidarity Spotlight: Rest in Power: Howard Johannssen, Founding President of PASS, Dies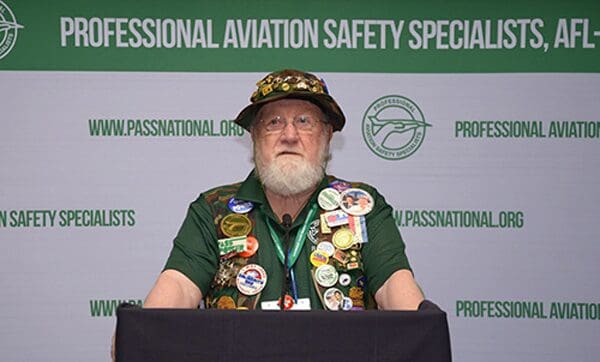 Working people across the United States have stepped up to help out our friends, neighbors and communities during these trying times. In our regular Service + Solidarity Spotlight series, we'll showcase one of these stories every day. Here's today's story.
The founding president of the Professional Aviation Safety Specialists (PASS), Howard Johannssen (pictured above), died on Saturday at his home in Maryland. He was 79 years old.
"Howard was what we all aspire to be. PASS is what we are because of his sacrifices and principles," said PASS National President Dave Spero.
The seed for PASS was planted in the 1970s after an incident at JFK International Airport involving Johannssen and an air traffic controller where a fire broke out. Johannssen, an airways facilities technician with the Federal Aviation Administration, saw smoke coming from under a doorway, but technicians weren't trusted to have keys. He grabbed a fire extinguisher to knock the door down and a controller, who also smelled the smoke, helped. "We put that fire out," Johannssen recalled. "The next day, I find that I'm going to get a suspension for destroying government property. And the controller who helped me got a reward!" This was just one of many incidents of disparate treatment between the workforces that resulted in the birth of PASS in 1977. He served as PASS's national president until 1994.
"He was passionate about his union," continued Spero. "He spoke with everyone he met about the importance of union membership and working for the greater good. That passion is the foundation of our success."
He is survived by his wife, Maura; his son, Kristopher; his daughter-in-law, Kerry; and his granddaughter, Jillian. The labor movement sends our deep condolences to Brother Johannssen's family, loved ones and fellow union members.
Kenneth Quinnell
Wed, 10/26/2022 – 09:51