The United States (U.S.) economy added 235,000 jobs in August of 2021, the lowest in seven months and well below forecasts of 750,000 as a surge in COVID-19 infections may have discouraged companies from hiring and workers from actively looking for a job.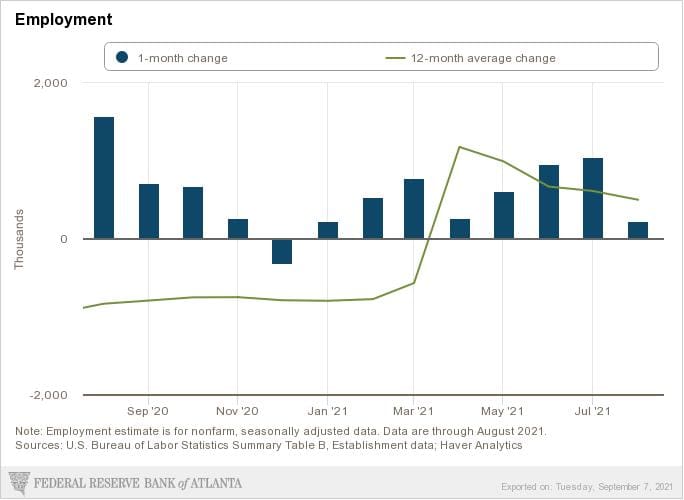 Most jobs were created in professional and business services (+74,000), transportation and warehousing (+53,000), private education (+40,000), manufacturing with most of them coming in motor vehicles despite ongoing struggles to source parts, and other services (+37,000). Employment in retail trade declined over the month (-29,000) mostly because of food and beverage stores (-23,000) and building material and garden supply stores (-13,000). Employment in leisure and hospitality was unchanged.
Source: Analysis U.S. Department of Labor and Wells Fargo Securities
Overall, nonfarm employment has risen by 17 million since April 2020 but is down by -5.3 million, or 3.5%, from its pre-pandemic level in February 2020.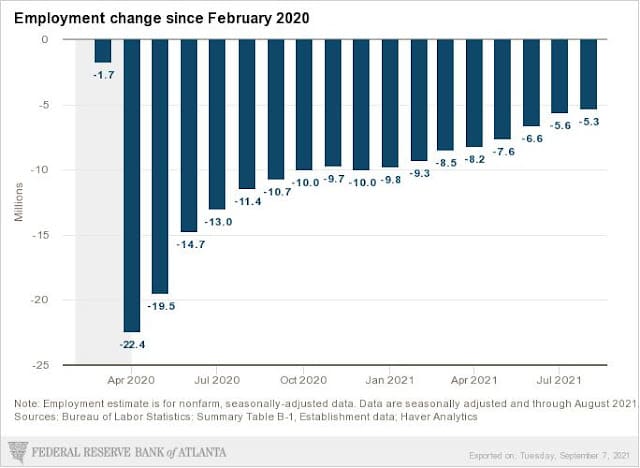 The standard, headline unemployment rate (U-3) dropped to 5.2 percent in August 2021, the lowest level since March 2020 and in line with market expectations, as the labor market continued its steady recovery following business re-openings in the US and despite reports of labor supply shortages and concerns over the lingering threat of the COVID-19 resurgence. The number of unemployed people fell by 318,000to 8.38 million, while employment levels increased by 509,000 to 153.15 million.  The broad or real unemployment rate (U-6) is at 8.90%, compared to 9.60% last month and 14.30% last year. This is lower than the long term average of 10.44%.
Headline and Real Unemployment Rates
Although the jobless rate remained well above the pre-crisis level of about 3.5 percent, experts believe that the rate should decline further due to strong economic activity and demand for labor
As indicated, the Delta surge is holding down job growth in the leisure & hospitality sector. After increasing by more than 300K for four straight months, employment growth was stagnant in August.
Unemployment Intensity is the product of the duration and the rate of unemployment.  The unemployment intensity is constructed by multiplying the unemployment rate for an index representing the average duration of unemployment, with the idea that unemployment becomes more intense when its duration increases.  As shown below unemployment intensity has increased since the end of the COVID-19 recession but appears to have leveled out and possibly shifting downward.
Unemployment Intensity Index .
The post The September Jobs Report Misses Employment Forecasts, Unemployment down to 5.2%. appeared first on IAMAW.