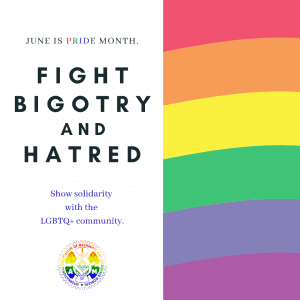 WE ALL KNOW JUNE IS PRIDE MONTH, BUT WHEN IS PRIDE DAY 2021?
You probably saw the June 1st IAM IMail reminding us that June is Pride Month, but did you know we celebrate Pride Day on June 28th? This day in 1970 made history with the first Pride March being held in New York City, NY.
June 28, 1969 was the horrific start of what is often called the Stonewall Riots. On that date, the police raided the Stonewall Inn, a gay club in Greenwich Village. This resulted in bar patrons, staff, and neighborhood residents taking to the streets to protest the violent actions of the police. This turned into a six-day protest lead by many community leaders, including Marsha P. Johnson, a black, trans, bisexual woman. Also called the Stonewall Rebellion or the Stonewall Uprising, those involved were fighting for the rights of the LGBTQ community to be safe in the spaces they created.
Pride Month is largely credited as being started by bisexual activist, Brenda Howard. Known as "The Mother of Pride," Brenda organized Gay Pride Week and the Christopher Street Liberation Day Parade in 1970, a year after the Stonewall Riots. This eventually morphed into what we now know as the New York City Pride March, and from where parades and marches across the world evolved.
In 1999, Bill Clinton was the first US President to officially recognize Pride Month,
In 2009, Barrack Obama officially declared June to be LGBT Pride Month.
In May 2019, Donald Trump recognized Pride Month with a tweet announcing his Administration had launched a global campaign to decriminalize homosexuality, (although critics later noted that his administration's actions spoke louder than words).
On June 15, 2020, the Supreme Court of the United States held that Title VII of the Civil Rights Act prohibits discrimination on the basis of sexual orientation or transgender status in Bostock v. Clayton County.
On January 20, 2021, on his first day in office, President Biden issued an Executive Order declaring that all persons should receive equal treatment under the law no matter their gender identity or sexual orientation and directing each agency head to conform with this policy.
Although we have come a long way, there is still much work to do to ensure everyone has a truly fair and just workplace. The IAMAW proudly works hand-in-hand with Pride at Work, a non-profit organization representing LGBTQ union members and their allies. Pride at Work seeks full equality and social justice among all peoples. For more information click here. 
This June 28, commemorate Pride Day by joining Pride at Work! click here
Reference:
https://nationaltoday.com/pride-month/
The post When is Pride Day? appeared first on IAMAW.