Service + Solidarity Spotlight: Culinary Union Members March in Solidarity with Las Vegas Hospitality Workers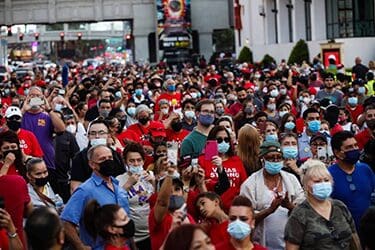 Working people across the United States have stepped up to help out our friends, neighbors and communities during these trying times. In our regular Service + Solidarity Spotlight series, we'll showcase one of these stories every day. Here's today's story.
UNITE HERE's Culinary Union, led by Secretary-Treasurer Geoconda Argüello-Kline, marched on the Las Vegas Strip in the first major march by the union since the beginning of the COVID-19 pandemic. Some 35% of the union's 60,000 members are still not back at work 19 months later. The Culinary Union fully supports the gaming and tourism industries in Nevada and wants all hospitality workers in Las Vegas to be able to return to work.
The Las Vegas hospitality industry was built by members of the Culinary Union and other working people, and is central to the recovery of the state and local economies in the wake of the pandemic. Workers are ready to serve loyal customers with great food, quality beverages and clean guest rooms daily.
The Culinary Union has fought hard to protect its members and to date has had significant and historic success by: extending health care for 18 months for members; keeping families in homes; providing essential food and nutrition to families; enforcing members' rights in the workplace; helping to elect President Biden; passing the first and only COVID-19 worker safety law; and passing legislation that gives hospitality workers the right to return to their jobs as the economy improves.
The march shows that Culinary Union members are ready to get back to work making Las Vegas the hospitality hub that provides some of the top entertainment and leisure in the country.
Kenneth Quinnell
Thu, 09/30/2021 – 09:24