Service + Solidarity Spotlight: Six Months on Strike, UWMA Members Standing Strong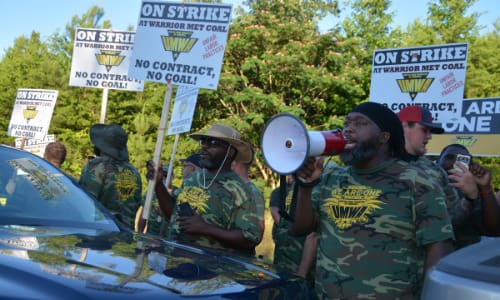 Working people across the United States have stepped up to help out our friends, neighbors and communities during these trying times. In our regular Service + Solidarity Spotlight series, we'll showcase one of these stories every day. Here's today's story.
It has been six months since the Mine Workers (UMWA) went on strike against Warrior Met Coal. Warrior operates two mines, a preparation plant and a central shop, located in the heart of Alabama, 15 miles east of Tuscaloosa. The UMWA represents about 850 workers at these facilities. In 2016, due to a series of questionable management decisions, Walter Energy filed for bankruptcy. But the workers decided to save their company, preserve their jobs and their communities by sacrificing wages, time off from work, loss of overtime pay and an end to full health care coverage.
Their sacrifices totaled $1.1 billion over five years in cost savings and helped the company reach revenues in excess of $4.3 billion. The UMWA said the result of these sacrifices and an unheard-of financial comeback for the company was Warrior's blatant mistreatment of its workers, forcing them to work most holidays and complete 12-hour shifts reaching up to seven days a week. "What Warrior Met has offered is just a tiny fraction of what the workers gave up five years ago," said UMWA President Cecil Roberts. "These workers are tired of being mistreated, they are tired of being forced to work and missing time with their families. Warrior Met knows it is exploiting these workers, and it's time for it to stop." Click here to read a full recap of the strike and how union members and our communities are joining together to win a fair contract.
Kenneth Quinnell
Fri, 09/24/2021 – 09:00